The APA's GoFourth4Fireworks Campaign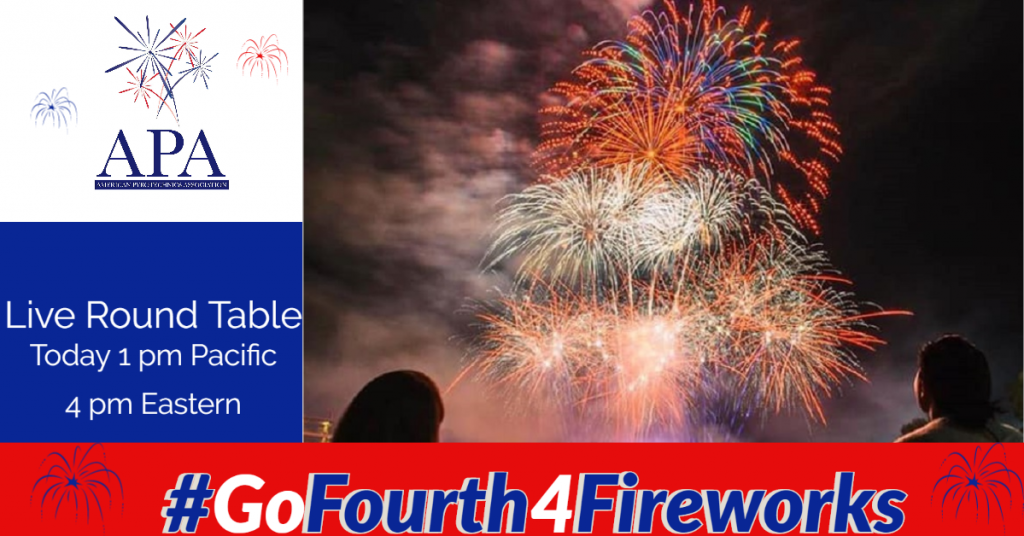 APA Advisory – Facebook LIVE Webinar This Afternoon
June 3, 2020
TO:               James Souza, Pyro Spectaculars, Inc.

SUBJECT:  Tune in at 4:00 pm ET and Learn More About the APA's GoFourth4Fireworks Campaign
Don't forget to join us this afternoon at 4:00 pm ET for a free Facebook Live webinar jointly hosted by the APA and our friends at Pyrotecnico to discuss the unprecedented obstacles the COVID-19 has created for the industry and how the APA is responding.
The webinar can be accessed on Facebook via this link:
https://www.facebook.com/americanpyro/live/ or by clicking here.
APA Executive Director Julie Heckman, will be joined by 3 association Board members who have been actively engaged in formulating the legislative and media strategy of the GoFourth4Fireworks campaign. Joining us will be:
Stephen Pelkey, President & CEO, Atlas PyroVision Entertainment
James Souza, President & CEO, Pyro Spectaculars
Stephen Vitale, President & CEO, Pyrotecnico
There will be plenty of behind the scenes stories and real-life scenarios of how multi-generational companies are attempting to weather one of the most significant challenges the display industry has ever faced.