Planning made easy by Pyro Spectaculars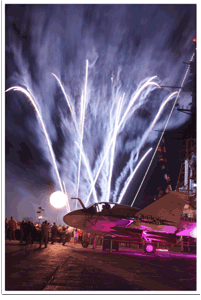 Fireworks are the perfect way to transform an occasion into a spectacular event that everyone will remember. If you're looking to take your event to the next level, you've come to the right place. Our decades of experience will guide you through the entire process, ensuring that on your chosen day, you can sit back and be amazed by an incredible show, customized to your liking.
Every aspect of the show is customizable to both the nature of the occasion and your personal preference. The best way to start the process of planning your show is to call 888-477-PYRO to speak with one of our expert show producers. Once we have a sense of how we can help you create a night to remember, we'll arrange a complimentary on-site consultation to begin the creative and collaborative process to help you get the most effective and exciting show for your audience.
The tabs below provide more information about each part of the process. Feel free to call us with any questions you might have. We look forward to working with you and can't wait to make your event incredible by providing you with the best fireworks show imaginable!
Timeline
When you decide you want fireworks for your event, contact Pyro Spectaculars by Souza as soon as possible. Although we can put together events on short notice, contacting us at least a month in advance will ensure that we can get all the necessary permits and materials. If you'd like a Fourth of July show, we recommend contacting us by February of the year you'd like the show. We love planning in advance to provide you with the perfect experience.
We'll conduct a site survey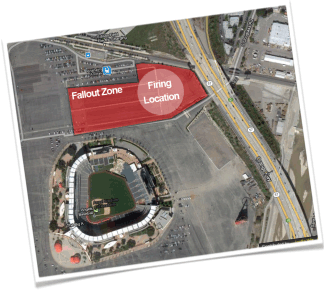 Due to the nature of fireworks, we need a qualified, safe location to shoot the show. For a typical aerial show, the ideal location is a wide-open field, away from buildings and people. If you have something else in mind, we'll try to accommodate your wishes, utilizing our decades of experience shooting from buildings, bridges, stadiums, and just about everywhere else physically possible. Your show producer will help you identify the perfect location for your event and will take care of all the necessary pre-qualifications of the site.
Show type
If you can dream it, we can make it happen. We develop shows that range in size from the packed stadiums and the Macy's 4th of July Spectacular, to high school graduations and weddings. We'll work with you to determine what kind of show perfectly complements your event.
Budget
Our show producers will work with you to develop a budget for your show. The budget is determined by the complexity, location, and run-time of the show. Once we know what you're looking for, we'll do everything we can to ensure an incredible performance within your budget.
 Please call 888-477-PYRO today to get your personalized fireworks experience started!