75th Anniversary of the Golden Gate Bridge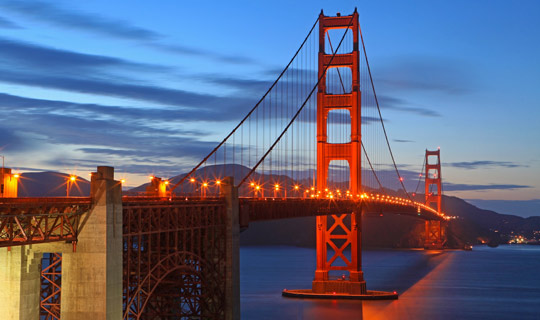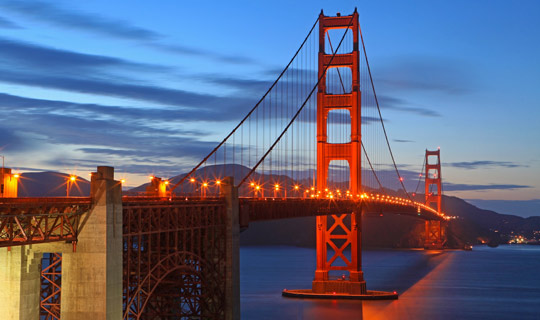 It's the 75th year of the Golden Gate Bridge and it's time to celebrate! Join in the 75 Community Tributes program with a variety of activities throughout the San Francisco Bay Area and beyond.
Then join the world for the Golden Gate Festival and Fireworks on May 27, 2012.
For information about a specific Tribute event, please contact the host organization directly. And save the date for May 27 for the big celebration, The Golden Gate Festival!
Golden Gate Festival
The Golden Gate Festival is the center point of the Bridge's year-long 75th anniversary program. With the theme of "Bridging Us All," the free community event seeks to honor this amazing landmark in a way that reflects the ingenuity, inclusiveness and creativity of the entire San Francisco Bay Area.
The festival will offer thousands of people the opportunity to reflect on the beauty of the Bridge, learn about its history, and be inspired through performances and exhibits.
Bridging Us All
The 75th anniversary public celebration will be a spectacular event on May 27, 2012, spanning the waterfront from Fort Point to Pier 39. Major program venues include Crissy Field and the Marina Green; additional activities and events will be held at the Presidio, Fort Mason Center, Ghiraradelli Square, San Francisco Maritime National Historical Park, Fisherman's Wharf, and Pier 39. While the Bridge will be open to auto traffic only and there will be no Bridge walk, there will be numerous vantage points and ways for the public to share in the Festival experience.
Preliminary Festival Plan
Hours, performers, transit information and other details are being developed and will be posted here over the coming months.
Sunday, May 27
Take in magnificent views of the Golden Gate, learn about the Bridge's history and significance, and enjoy the national parklands anchored by the famed span. The Golden Gate Festival will feature activities including history and educational presentations, a display of cars from 1937 to the present, an historic watercraft parade, music and dance stages, art installations, films, and displays by corporate and media partners. At about 9:30 pm the weekend celebration will conclude with a spectacular 75th anniversary fireworks display and grand finale. Other venues and activities include:
• Presidio – photography exhibit on military history at the Golden Gate (also open Saturday)
• Fort Mason Center – Outdoor art installation (also open Saturday)
• Ghirardelli Square – Panel exhibit telling the story of the Golden Gate Bridge
• San Francisco Maritime National Historic Park – Tours aboard the Alma, music, photo displays & vintage cars (also open Saturday)
• Fisherman's Wharf – Music, historic images, vintage automobiles and maritime history (also open Saturday)
• Pier 39 – Music and dance festival highlighting the 1930s
• Art installations at Fort Point (also open Saturday)
• Interpretive talks and self-guided walks
• Bike trips to the bridge for youth, a YMCA program (Saturday, May 26)
• Displays of historic bridge artifacts (also open Saturday)
• Bridge-related art show at SFMOMA's facility at Fort Mason Center (also open Saturday)
• Photographic exhibition in the Presidio (also open Saturday)
• Music and displays at Fisherman's Wharf (also open Saturday)
• Film night in the Presidio with movies featuring the Bridge (Saturday evening)
For more information please visit: http://goldengatebridge75.org/