Pyro Spec is back with Judy Chicago for her Forever de Young "Atmosphere"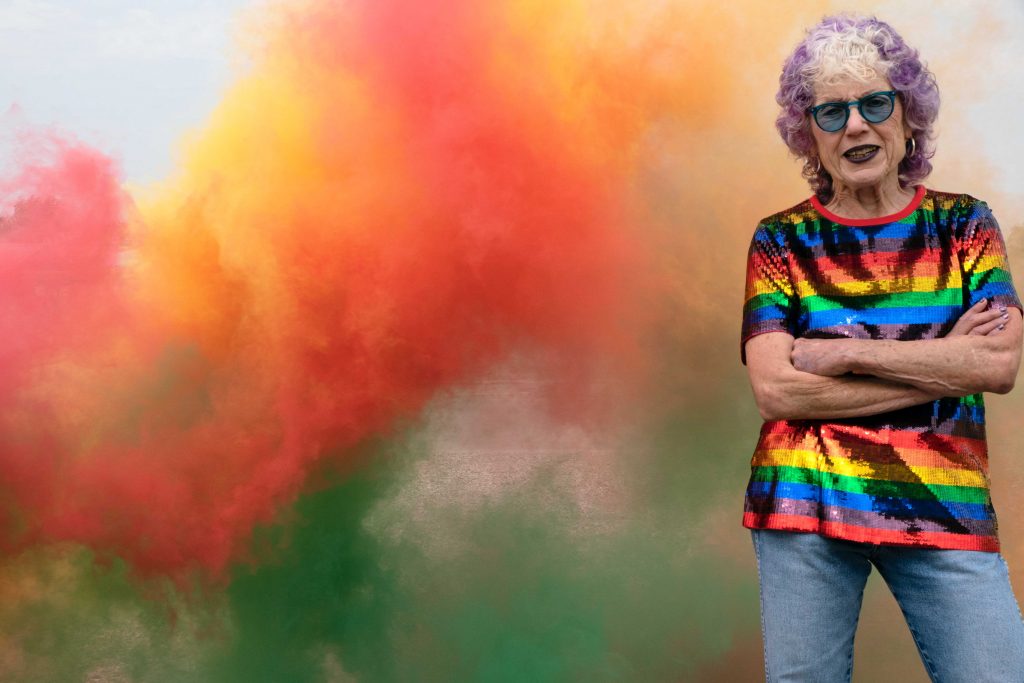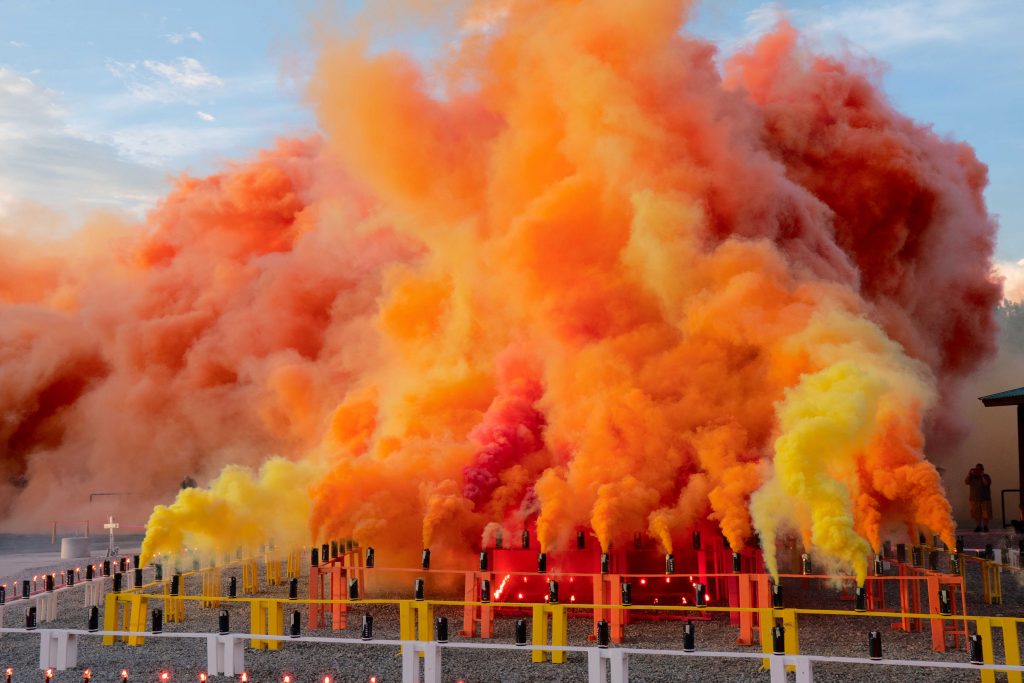 JUDY CHICAGO TO UNVEIL HER LARGEST AND MOST COMPLEX "ATMOSPHERE" WORK IN SAN FRANCISCO FOR HER RETROSPECTIVE AT THE DE YOUNG MUSEUM
September 23, 2021 (San Francisco, CA)—On October 16, 2021, at dusk (rain date October 17, 2021), world-acclaimed artist Judy Chicago will present a complex, multi-pigmented "Atmosphere." This performance hearkens back to the artist's innovative work in environmental art undertaken in the late 1960's and early 70's, titled Forever de Young as it is part of the artist's first career retrospective at the de Young Museum in San Francisco that opened on August 28th, 2021, and will run until January 9, 2022. This piece, in collaboration with her husband, photographer Donald Woodman and long-time pyrotechnic partner Chris Souza of Pyro Spectaculars, marks her largest and most complex mixing of color in the air—an extension of her long-time interest in the emotive capacity of color.
 Chicago's distinctive use of color across her six-decade long career has been explored by the retrospective's curator, Claudia Schmuckli. In speaking of the expansive exhibition, Schmuckli states, "This retrospective will reveal the continued radicality of Judy Chicago's practice, both in her choice of subject matter and embrace of media (her work spans painting, sculpture, installation, textiles, porcelain and smoke) traditionally excluded from the art historical canon."
This work, which is her 8th collaboration with Souza, will be one of her largest "Atmosphere" performances to date. Building on the artistry of recent works such as Butterfly for Brooklyn and A Purple Poem for Miami, the piece will take place on a 27-foot-high trapezoidal scaffold that will be erected directly in front of the de Young Museum. Chicago explains that Forever de Young will be an extended exploration of spectral color, which figures prominently in the retrospective. She states: "Donald, Chris, and I have worked for two years to fashion a piece that is suited to both the site and my history as an artist committed to bringing both beauty and meaning to my work."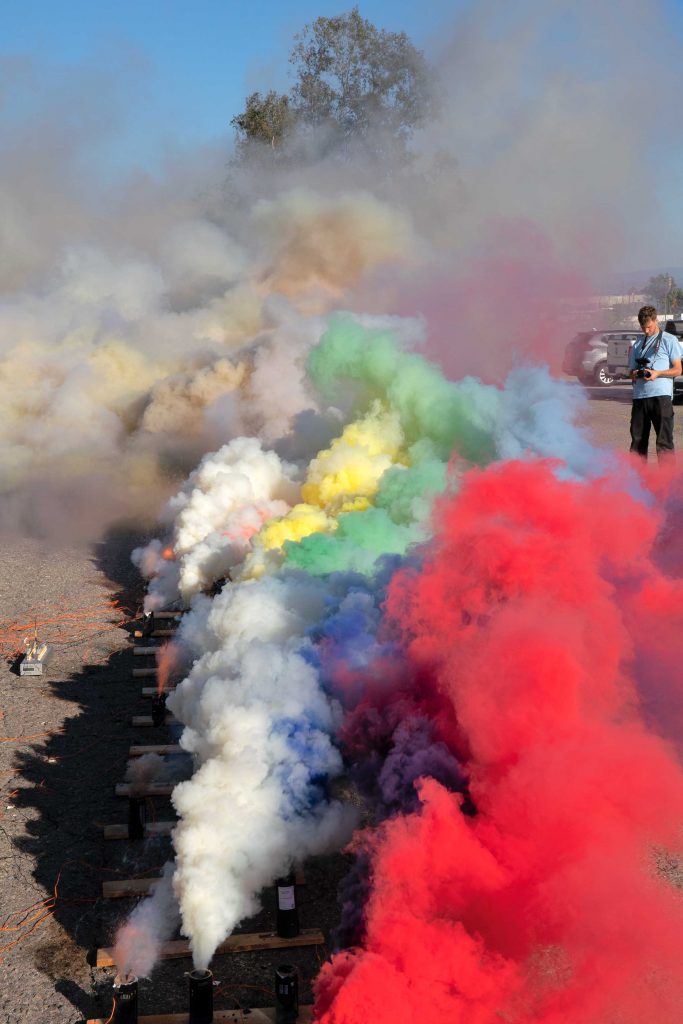 Chicago has a long commitment to environmental justice, which began early in her career. As with all her Atmospheres, she only works with environmentally friendly, non-toxic materials. The pigments she employs when released into the air mix with the wind and the light to create spectacular artistic effects.
Judy Chicago: A Retrospective spans from the artist's early engagement with the California Light and Space Movement in the 1960s to her most current body of work, The End: A Meditation on Death and Extinction —a searing investigation of mortality and environmental devastation. The exhibition includes more than 150 paintings, drawings, ceramic sculptures, prints, and videos that chart the boundary-pushing path of the pioneering artist. The artist and the retrospective have been receiving world-wide press coverage from such outlets as The San Francisco Chronicle, The Guardian, The New Republic, Wallpaper, ArtNews, The Art Newspaper, Elephant, National Public Radio, and much more.
Forever de Young is sponsored by the Jordan D Schnitzer in honor of his late mother, Arlene Schnitzer, an ardent art collector, gallerist, and long-time member of the Board of the de Young Museum. Collector and philanthropist Jordan D. Schnitzer says, "Judy Chicago, the most important feminist artist of our time, has for decades helped break down barriers and break through ceilings for artists, regardless of race, religion, or sexual identity. Never resting on laurels or reputation, she created art that forced us to think about ourselves. I am honored, in memory of my late mother Arlene Schnitzer, who also paved the way for so many, to sponsor Forever de Young."
The performance will take place outside and will adhere to COVID-19 guidelines for social distancing.         
Judy Chicago: A Retrospective and Forever de Young offer both a compelling and comprehensive overview of Chicago's astonishing career.