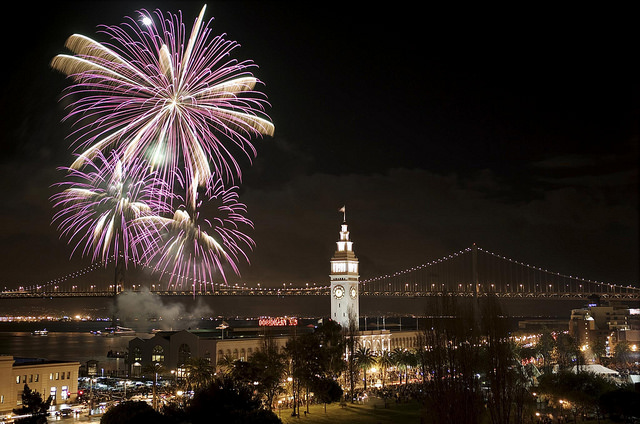 Technically, it is not true to say that the city of San Francisco will be lighting off fireworks at Pier 39 for the 4th of July at Pier Fireworks celebration on Saturday night. Instead, a firework show production firm called Pyro Spectaculars by Souza has been contracted to shoot more than 5,000 fireworks from the decks of two barges floating on the Bay. While the show will last around 25 minutes, the planning for SF's July 4th Fireworks display has spanned several months, multiple continents and miles of bureaucratic red tape.
We spoke to a couple of Pyro Spectaculars show producers about all the work they put into your fireworks. Rialto-based Pyro Spectaculars has been handling San Francisco's July 4th fireworks for more than 40 years, also producing other high-profile displays like the Macy's 4th of July Fireworks in New York City. The planning and testing for these shows has been underway for months.
"It really starts back in the fall," Pyro Spectaculars show producer Matthew Gilfillan said. Gilfillan produces numerous other northern California cities' displays, first setting a budget with each city's officials. Pyro Spectaculars then designs a custom show for each city, draws up insurance and transport arrangements and then travels the globe to find the most kick-ass fireworks they can find. "We usually visit China a few times a year, and other countries around the world where fireworks manufacturing is widely prevalent," Gilfillan said. "We import from all over the world: Europe, Asia and also North America."
Pyro Spectaculars must then prove regulatory compliance locally with the SFFD, on a state level with the Department of Transportation and federally with the Bureau of Alcohol, Tobacco and Firearms and Explosives to get permits and licenses for possessing, transporting and setting off their professional-grade fireworks. "We develop and test our products to make sure that they meet the highest safety specifications," Gilfillan said, "as well as all of the regulations provided by the dozens of different regulatory agencies that have their hands in making sure that the fireworks that are used are safe, they're transported in a safe manner and that the equipment that we use to discharge our fireworks is also safe."
The San Francisco show producer is Pyro Spectaculars' Jeff Thomas, who is personally producing about 60 cities' fireworks shows this weekend. The San Francisco fireworks are not set off manually, but instead via elaborately wired computerized ignition systems on board the barges. This Vimeo video shows his crew loading and wiring the fireworks onto the barges for San Francisco's 2014 4th of July display.
"That process doesn't start until late in the afternoon [Friday] or first thing in the morning on 4th of July," Thomas told SFist. "There are two barge locations. One at Aquatic Park, and the other one is positioned near Pier 39. Fireworks are launched from barges out in the water."
San Francisco's display will also be choreographed to music. "There is a musical score that's broadcast locally down at the Aquatic Park area and along the streets," Thomas said.
And yes, Pyro Spectaculars is prepared for the possibility of fog.
"San francisco has had fog for — haha! — ever," Thomas told SFist. "It's not always foggy on the 4th of July but there is a possibility . We're aware of that so we try to shoot products that have a range of heights and altitudes so that we can hopefully get around that fog."
"We shoot different style and altitude products specified to go at certain altitudes, knowing that some of the higher ones might not be seen. But we have a good complement of middle-range ones and lower ones," Thomas said. "We've got a nice variety of altitudes in the case that there is fog."
Whether or not there is fog, the San Francisco 4th of July Celebration fireworks show is Saturday, July 4 at Pier 39. The display is best seen from Fisherman's Wharf and Pier 39. Early arrival is highly encouraged, with Tainted Love playing at 5 p.m., a laser light show at 9 p.m. and the fireworks display beginning at approximately 9:30 p.m.