Space Needle New Year's Eve show an 8-minute blast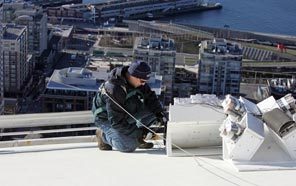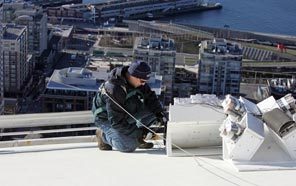 By Susan Gilmore
Seattle Times staff reporter
From: http://goo.gl/EX6zG
When fireworks blast off the Space Needle at 11:59 Friday night, it culminates weeks of work by Seattle's fireworks guru, Ian Gilfillan and his Pyro Spectaculars.
"It's the most-unique structure we do. Everything's unusual," said Gilfillan, standing atop the Space Needle on Thursday while his dozen workers installed the fireworks that will blaze across the sky. "The structure is world-recognized, and safety is a factor working on a structure like this."
And the weather? He glanced up at the clear sky. Couldn't be better.
More than 20,000 people are expected to gather at the Space Needle and 400,000 are expected to watch the show from surrounding neighborhoods.
Gilfillan has been staging the eight-minute Space Needle fireworks show for 17 years, and it actually was his idea to light up the Space Needle on New Year's Eve.
When he first suggested it in the early 90s, the Space Needle folks were receptive, but he had to win approval by the Seattle Fire Department.
He and fireworks designer, Alberto Navarro of Bellevue, first had to test the fireworks at Gas Works Park — where Gilfillan does the 4th of July fireworks show — and then he had to test the fireworks on a leg of the Space Needle early one morning before winning fire department approval.
But there are restrictions. Nothing hot can land on the ground, for instance.
This year, said Gilfillan, there won't be new fireworks but there will be new props that allow the show to match better with the music.
As for the number of fireworks, thousands, Gilfillan said. The show is run by a computer that matches the fireworks with the music.
The show hasn't always gone off without a hitch. A few years ago, there was a corrupted file on the computer, which meant a switch to manual operation. The result: The fireworks didn't match well with the music.
Did people notice?
"Oh yeah," he said.
The computer will operate 1,500 firing commands, each one involving 1 to 100 devices.
Gilfillan says it takes 25 hours to set up the show and eight hours to take it down.
There are many viewing spots around town, said Dave Mandapat, with the Space Needle, but
suggested revelers stay upwind away from the fireworks smoke.
Gilfillan said the fireworks come from 14 different manufacturers in Europe, Asia and the United States. He does fireworks shows around the country, including a big show in San Francisco Bay and at a half-dozen ski resorts.