New Year's Eve Spectacular at the Space Needle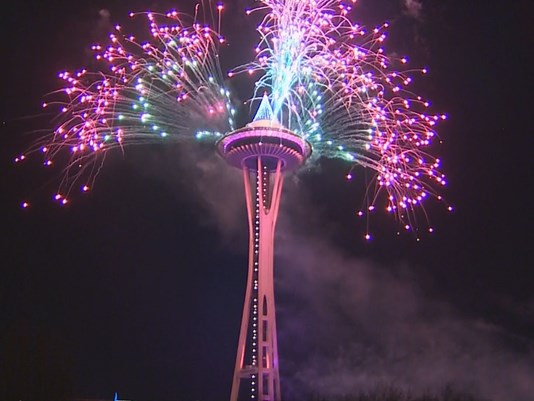 SEATTLE – The Space Needle, illuminated in T-Mobile's distinctive magenta brand color, celebrated the arrival of 2017 with the 32nd annual fireworks spectacular T-Mobile New Year's at the Needle. At ten minutes in length, the show is the largest ever produced for the annual event.  
Designed and coordinated by global fireworks experts, Pyro Spectaculars, and Master Fireworks Artist Alberto Navarro,  T-Mobile New Year's at the Needle is one of the world's largest structure-launched fireworks displays.    
The music for the show was curated by Seattle's own listener-supported radio station, KEXP 90.3FM. DJ's Kevin Cole and Larry Rose gave us some insight into the diverse and celebratory playlist honoring David Bowie and Prince, two iconic artists that we lost in 2016. 
David Bowie, "Space Oddity" –  "Perfect because it's got a built-in countdown that leads right into midnight." 
David Bowie, "Let's Dance" – "One of his biggest selling songs, an uplifting party track, a song that introduced David Bowie to a whole new generation of fans in 1983.  Stevie Ray Vaughn plays guitar on the track, and really, it's an uplifting call to arms, a party anthem." 
Justin Timberlake, "Can't Stop This Feeling" – "One of the biggest pop songs of the year.  It's a feel-good jam with some funk and disco mixed in.  It's the biggest selling song of the year and a big international hit. " 
ODESZA, "Say My Name" – "A great local, electronic music duo.  This song actually has been nominated for a Grammy, "Best Remix Song".  This band has blown up and this track really keeps the party going with the lyric, "I wanna dance, I wanna dance with you."  
Calvin Harris, "This Is What You Came For (R3hab & Henry Fong Remix)" – "Another big pop jam from this year, featuring Rhianna, and we chose a remix that takes it to another level with some lightning fast beats."
Grace Love & the True Loves, "Fire" – "Great local music,  their self-titled debut came out near the end of 2015 and is an amazing record of 1960's steeped old-school soul."
Beyonce, "Freedom" – "From Beyonce's Lemonade, one of the biggest albums of the year.  The song is a perfect way to end 2016 with the life-affirming chants of Freedom." 
David Bowie & Queen, "Under Pressure" – "One of the most cathartic songs ever.  An incredibly powerful song about transcending the day to day struggles. Humanity coming together. Caring for each other, respecting each other, taking care of each other."
Prince, "Purple Rain" – "It's such a powerful song, such an emotional song, and with the referring Purple Rain, it will be perfect for fireworks." 
Prince, "Let's Go Crazy" – "The grand finale, it's a great way to start 2017.  In Prince's words, 'A world of never ending happiness, are we gonna let the elevator break us down? Oh no! Let's go Crazy!'"
Original Article — http://www.king5.com/features/watch-the-fireworks-seattle-rings-in-2017s-new-years-at-the-needle/381045530