San Francisco Rings in the New Year With Fireworks Spectacle Over the Bay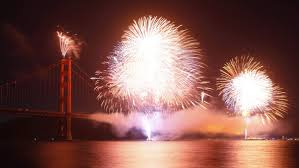 Goodbye, 2019. Hello, 2020. San Francisco was packed to the gills Tuesday night with people and parties ringing in the new year.
On the Embarcadero, there were tens of thousands of New Year's Eve revelers, along with a lot of security, in place for the fireworks extravaganza over the bay.
According to the San Francisco Police Department, there were no known security threats. Two years ago, terror fears were high following a thwarted Christmas plot.
Crowd and traffic control as well as keeping the peace were top of mind for the police department. SFPD said people would see an all-hands-on-deck police force no matter where they were celebrating.
"We'll be deployed all over the city, in the marina, downtown, South of Market, Mission, Fisherman's Wharf," SFPD Officer Adam Lobsinger said. "We'll be everywhere, and we're going to have officers patrolling in uniform, in plain clothes. We also have specialty units that will be on foot, on motorcycles, normal patrol vehicles. We're going to be ready for just about anything."
Originally Published: https://www.nbcbayarea.com/news/local/san-francisco/san-francisco-preps-for-new-years-eve-partygoers/2208441/