City of Martinez Brings Back Annual July 4th Fireworks Show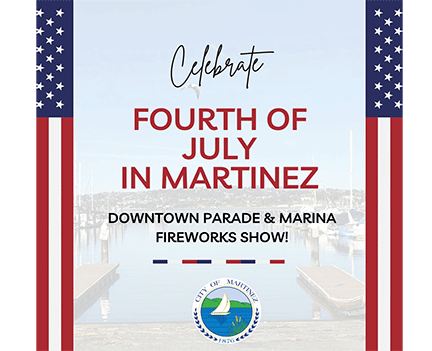 Published: June 29th 2022
From: East County Today
MARTINEZ, CA – The City of Martinez is pleased to announce that the annual Fourth of July Fireworks Show is returning to Martinez. The City is also welcoming back the annual Fourth of July Parade organized by Downtown Martinez and Company and sponsored by the Martinez Refining Company.
"Now that we are transitioning back to in-person events within our community, we are excited to offer fun and festive opportunities to bring our residents and City staff together," stated Martinez Mayor Rob Schroder. "We are looking forward to seeing our community enjoy the Fourth of July Celebrations taking place throughout the City."
In order to help residents plan appropriately, and ensure the events go without interruption, City staff will be coordinating street closures, and other key elements of the day's events.
Parade Details
The parade starts at 10:00 a.m. and will travel down Main Street from Court Street to Alhambra Avenue where the parade will turn right before it ends at Escobar Street. Staging will occur on Court Street and Main Street adjacent to the Contra Costa Superior Court building and County offices. Prior to the parade at 8:30 a.m., there will be a Flag Raising Ceremony at the Veteran's Memorial Building, which is open to the public.
Volunteers from Downtown Martinez and Company will close off access to Main Street on Court Street, Las Juntas Street, Ferry Street, Estudillo Street, Castro Street and Alhambra Avenue beginning at 7:00 a.m.
Fireworks Show Details
The Fireworks Show will be held at the Martinez Marina, and will begin at approximately 9:00 p.m. Vehicle access to the Marina will be closed off starting at 6:00 a.m. on the Fourth of July. Blocked access to the Marina will include access at Berrellessa Street, Ferry Street and Marina Vista Avenue. Only residents with a permit will be allowed into the Marina area. We encourage residents who live in, or frequent the area, to plan ahead.
The City has contracted with Pyro Spectaculars North, Inc to orchestrate the show. Pryo Spectaculars North, Inc has carried out numerous fireworks shows for the City of Martinez in years past. The City encourages the public to walk to the event, park in and around the Downtown area, or use ride sharing options. The duration of the show will be about 45 minutes.
The City of Martinez also reminds residents that fireworks usage is not permitted in the City, nor the rest of Contra Costa County
Originally Published: https://eastcountytoday.net/city-of-martinez-brings-back-annual-july-4th-fireworks-show/