Celebrating Our Country's Birthday With American Music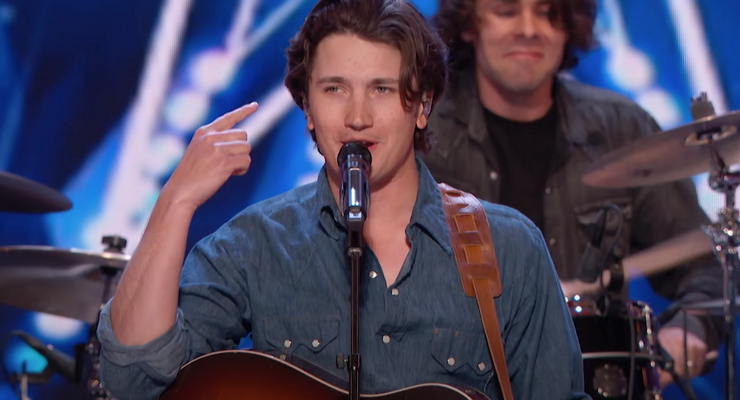 96th Annual Rose Bowl AmericaFest features country star Drake Milligan and all those fireworks in Southern California's biggest July 4 celebration
PUBLISHED: June 28, 2022 in Pasadena Now
By Cynthia Yang: Weekendr Staff Writer
Okay, before the fireworks begin, let's clear the air. There are lots of countries, right? America is a country. Like England, or like Tonga, or Lithuania. Those are all countries.
But when you say "Country music," people think only of the U.S.of A. It's just one of life's tiny mysteries, we suppose.    
So how better to celebrate said country than with a heaping portion of great country music? The Rose Bowl Stadium's upcoming 96th Annual AmericaFest Celebration, which will coincide with the iconic stadium's 100th birthday, is doing just that, featuring a musical performance by budding country star Drake Milligan.
After starring as a teenage Presley in the CMT series Sun Records, Milligan recently released his self-titled EP to much critical acclaim. His traditional yet timely country has earned accolades from such sources as  American Songwriter, Rolling Stone Country, CMT.com, Fort Worth Weekly, Sounds Like Nashville, Taste of Country. 
Milligan recently performed at Stagecoach and is now headlining shows across the country this summer.
Meanwhile, AmericaFest is long recognized as one of the nation's largest and longest-running of America's birthday parties, and in celebration of the Rose Bowl Stadium's centennial, "America's Stadium" will extend the party with a week-long celebration.
The festivities will kick off on July 4th with the 96thAnnual AmericaFest Celebration and will culminate on July 9th with Palomino Festival, featuring a score of country artists, like modern and iconic country acts Willie Nelson, Kasey Musgraves, Jason Isbell, Old Crow Medicine Show, and Turnpike Troubadours.
"The Rose Bowl Stadium is so iconic for many things, but the annual AmericaFest at the Rose Bowl is an event that brings all of Pasadena and beyond, together," said Mayor Victor Gordo. "The importance of community is so vital to our city and having the opportunity to celebrate the venue's Centennial Celebration with an event like this is truly remarkable." 
In honor of the stadium's 100th birthday this year's AmericaFest program will also highlight key moments of the venue's iconic past, welcoming back fan favorites TNT Freestyle Motocross with their high-flying thirty-minute show. 
The Rialto-California based company, Pyro Spectaculars by Souza, will once again light up the sky with the longest-running and largest fireworks display on the West Coast. Pyro Spectaculars has been providing firework entertainment at the Rose Bowl Stadium for more than 35 years and is known worldwide for its firework displays, producing shows for the NFL Super Bowls, the Olympic Games, and other major events throughout the world. 
This year, in celebration of its birthday, the Rose Bowl Stadium has also partnered with Goldenvoice to provide guests with a free AmericaFest ticket with the purchase of a Palomino Festival pass. 
Head to palominopasadena.com and upon checkout, guests will be prompted to add their free AmericaFest ticket to their cart. 
Giddyup.
Tickets  for the Rose Bowl's 96th Annual AmericaFest Celebration are now on-sale here, and more event information is available at www.rosebowlstadium.com.
Originally Published: https://www.pasadenanow.com/weekendr/celebrating-our-countrys-birthday-with-american-music/