Meet the family behind America's famous fireworks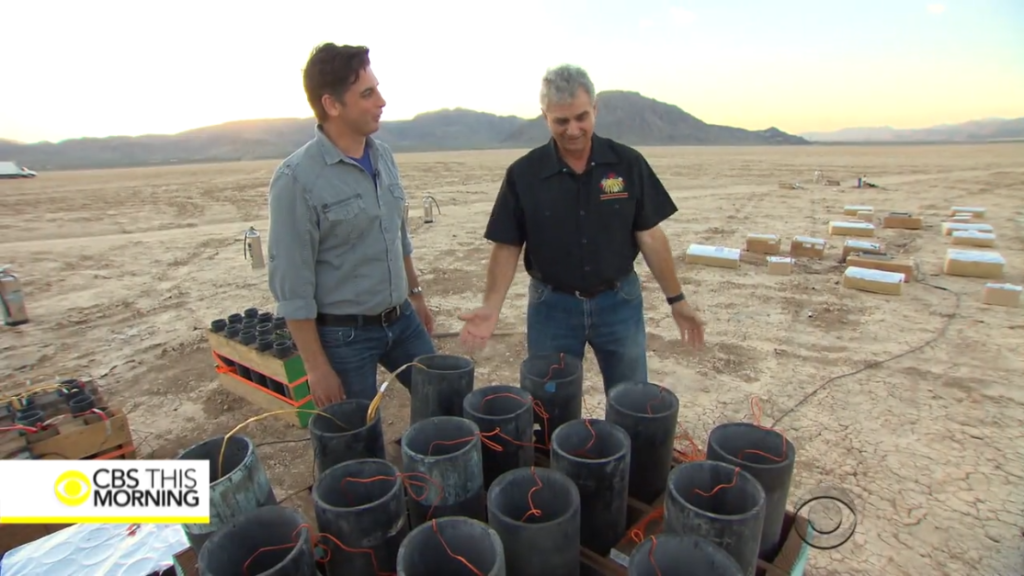 From CBS News
The upcoming Fourth of July holiday is a time to celebrate our freedom and patriotism with fireworks soaring through the night skies. And like they have for many years, one immigrant family who is living the American dream is producing some of the country's biggest birthday celebrations.
Dazzling displays with explosions of color hitting on the beats, the pyro-musical we've all come to expect on the Fourth of July was pioneered by the Souza family, reports CBS News correspondent Carter Evans.
Jim Souza has been a rocket man since he was 12. Today, he is the CEO of the family-run business, "Pyro Spectaculars."
"When we're into that countdown and we're all checking controls and then you get the goosebumps like I'm getting now and then the ten, nine, eight, and then that first shell goes up in the air – and yes! That's the magic!" said Souza, one of the producers of Pyro Spectaculars.
Jim's son, Paul, is a fifth-generation show producer. Deep in the California desert, they have their final tests of shells that will explode in nearly 400 Souza-produced shows come Monday, each launched by Pyro Spectaculars' trained professionals.
The Souzas are the firing force for some of the biggest fireworks displays around the world, from the Olympic opening ceremonies to the Super Bowl and the 75th anniversary of the Golden Gate Bridge, where 25,000 explosives specially designed to withstand San Francisco's wind created an unforgettable spectacle.
"What if it didn't work perfectly, exactly the way you wanted?" Evans asked.
"Nobody else is going to know," Paul said, confidently. "It's still going to go boom and make people happy!"
The Souzas have a family "cookbook" that contains their original formulas for fireworks. In the early days, the family made their own. Sparks first began flying when Manuel de Souza immigrated from Portugal in the early 1900's.
"My great grandfather was lighting the fuses by hand with a hand torch," Jim explained.
A dynasty was born as each successive generation joined the family business, but it was dangerous work.
"He was out searching the grounds and found what we call a dud — a shell came down to the ground and it didn't explode. And it went off and blew his arm off."
Their arsenal of more than a half-million explosives is stored in 17 underground bunkers. The shells are made in China, then Jim's workers add the electronic fuses by hand.
"When we're walking through the bunkers, we have a great respect for this product because it is dangerous and it's life-threatening," Jim said.
Some 50,000 fireworks will be launched Monday night in the Macy's Fourth of July celebration in New York. It's been a Souza spectacle for more than 30 years. Jim's other son, Christopher, runs the show.
"This Macy's show is going to be the most complex Macy's show ever fired," Christopher said.
A new computer simulation effect will be unveiled in New York.
"We're going to attempt to do 'USA' in the sky. We've been working on it for months really to perfect it," Christopher said.
It all starts with storyboards, then music and effects are synced and timing cues are added. The results are mesmerizing and emotional, and the producers play off the crowd.
"There's moments where I'm going to really hit it hard, and kind of, the audience is going to move back and kind of be shocked, and then we're going to bring it really low, almost bringing the audience to tears," Paul said.
A year of planning goes into a 30-minute show, but the memories can last a lifetime.
"Still a lot of work but I love what I'm doing," Paul said.
Original Article — http://www.cbsnews.com/news/souza-family-of-pyro-spectaculars-behind-americas-fourth-of-july-fireworks/