96th Annual AmericaFest Returns to Rose Bowl With Spectacular Firework on July 4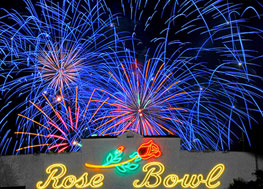 Originally Published: June 7th, 2022 From: Pasadena Now
The Rose Bowl Stadium's Annual AmericaFest Celebration is recognized as one of the nation's largest and longest running shows to celebrate America's birthday. In celebration of the Rose Bowl Stadium's centennial, "America's Stadium" is going bigger than ever by celebrating all week long. The festivities will kick off on July 4th with the 96th Annual AmericaFest Celebration and will culminate on July 9th with Palomino Festival, highlighting some of the best country music has to offer presented by Goldenvoice.
"The Rose Bowl Stadium is so iconic for many things, but the annual AmericaFest at the Rose Bowl is an event that brings all of Pasadena and beyond, together," said Mayor Victor Gordo. "The importance of community is so vital to our city and having the opportunity to celebrate the venue's Centennial Celebration with an event like this is truly remarkable."
In honor of the stadium 100th birthday this year's AmericaFest program will highlight key moments of the venue's iconic past, welcome back fan-favorite, TNT Freestyle Motocross with a thrilling, high-flying thirty-minute show, and will also feature a musical performance by Drake Milligan.
After starring as a teenage Presley in the CMT series Sun Records, Milligan released his self-titled EP to much critical acclaim. Milligan's signature traditional yet timely country has earned praise from American Songwriter, Rolling Stone Country, CMT.com, Fort Worth Weekly, Sounds Like Nashville, Taste of Country and more. He recently performed at Stagecoach and is headlining shows across the country this summer. You won't want to miss it!
The Rialto-California based company, Pyro Spectaculars by Souza will once again light up the sky with the longest running and largest fireworks display on the West Coast. Pyro Spectaculars has been providing firework entertainment at the Rose Bowl Stadium for more than 35 years and is known worldwide for extraordinary firework displays, producing shows for the NFL Super Bowls, the Olympic Games, and other major events throughout the world. The crowd will be dazzled as this year's AmericaFest show will have firework displays dedicated to the stadium's centennial, visible this year only.
To provide fans with the opportunity to take part in all the festivities, the Rose Bowl Stadium has partnered with Goldenvoice to provide guests with a free AmericaFest ticket with the purchase of a Palomino Festival pass. Head to palominopasadena.com and upon checkout guests will be prompted to add their free AmericaFest ticket to their cart. Don't miss this opportunity to witness iconic country acts Willie Nelson, Kasey Musgraves, Jason Isbell, Old Crow Medicine Show, Turnpike Troubadours and so many more.
The Rose Bowl Stadium has begun a five-year partnership with Southern California-based Wescom Credit Union to be the exclusive presenting sponsor of the Rose Bowl Stadium's AmericaFest Celebration.
"In working towards our vision of becoming Southern California's premier banking partner and making a difference in the communities we serve, we partnered with the Rose Bowl Operating Company to make sure this historic celebration continues to be a family tradition across Southern California," noted Ashely White, Vice President, Partner Development of Wescom Credit Union. "As the Official Banking Partner of the Rose Bowl Stadium, this partnership not only furthers our commitment to our communities but will also continue to support the city of Pasadena, where we call home."
Tickets are now on-sale here with pricing starts at $20.00. Parking lots will open at 1:00 PM and pre-purchased parking rates will start at $45.00. The Family Fun Zone in Area H will open at 1:00 PM. Come out and spend America's birthday at America's Stadium.
For more information and to purchase tickets for the 96th AmericaFest Celebration, please visit www.rosebowlstadium.com and follow our social media handles @RoseBowlStadium.
About the Rose Bowl Stadium
The Rose Bowl Stadium is the proud home of the Tournament of Roses' Rose Bowl Game, UCLA Bruins football, AmericaFest Fourth of July Celebration, concerts including Kenny Chesney, Coldplay, Taylor Swift and U2, international and Premier League soccer matches and the World's Largest Flea Market.
A National Historic Landmark built in 1922 and known around the world, the Rose Bowl Stadium has earned its world class reputation by hosting five NFL Super Bowl games, the 1984 Olympic Soccer matches, the 1994 Men's World Cup, the 1999 Women's World Cup, four BCS National College Football Championship Games and the College Football Playoff Semi-Final game.
About the WESCOM Credit Union
Since 1934, Wescom Credit Union has been dedicated to helping people throughout Southern California build better lives. Headquartered in Pasadena, California, Wescom has 24 branches and offers advanced digital banking tools to provide essential banking solutions to more than 200,000 members. Benefits include free checking, lower loan rates, higher savings yields, reduced fees, and a robust network of branches and ATMs. #WescomKindness is an extension of Wescom Credit Union's more than 87-year tradition of serving its community through such programs as The Wescom Foundation – the credit union's employee-run charitable foundation. For more information, please visit wescom.org.
About GoldenVoice
Goldenvoice, creators of Coachella Valley Music & Arts Festival and Stagecoach: California's Country Music Festival, also operates successful Los Angeles music venues including the Fonda Theatre, El Rey Theatre, and Shrine Auditorium. Beginning as an independent punk rock promoter in the early 1980s, Goldenvoice grew to be the preeminent alternative promoter in Southern California by forging strong relationships with both bands and music fans. Goldenvoice promotes over 1400 concerts a year in California, Nevada, Alaska, Arizona, Hawaii and Canada.
originally published: https://www.pasadenanow.com/main/96th-annual-americafest-presented-by-wescom-credit-union