Cai Guo-Qiang's Sky Ladder & Mystery Circle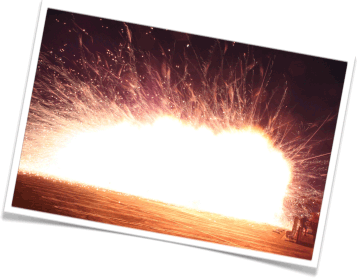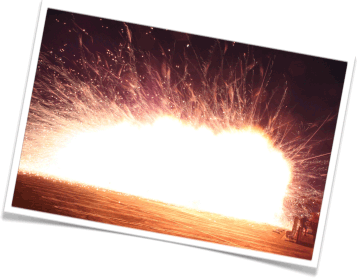 On Saturday, April 7th Cai Guo-Qiang debuted his new show, Sky Ladder, at the Los Angeles Museum of Contemporary Art (MOCA). Pyro Spectaculars by Souza was the expert pyrotechnic consultant that helped bring the artist's vision to life.
Cai Guo-Qiang has a long history of creating innovative and unique art. While some artists use watercolors or oil to paint their vision, Cai uses black powder and fire. The sky is his canvas and black powder is his paint. He has had dozens of shows all over the world. His current show, Sky Ladder, at the MOCA museum in Los Angeles, features a series of three monumental gunpowder drawings. By using pyrotechnics effects Cai creates truly unique art by scorching the canvas. Pyro Spectaculars helped the artist by procuring the materials and helping him paint safely. Click here to see a gallery of the drawings.
On opening night of the Sky Ladder, Cai Guo-Qiang debuted his Mystery Circle: Explosion Event, in which the artist ignited the sky with the over 40,000 miniature rockets. The mystery circle was in the form of an alien with a variety of circles surrounding the body. Pyro Spectaculars created the elaborate set pieces as well as assisted with the creation of his canvas pieces. The Mystery Circle set piece that Pyro Spectaculars designed was over one hundred yards long and completed covered the east side of the MOCA Geffen building. It took Pyro Spectacular's over 3,300 hours to assemble the set piece, set up and shoot the show. When the Mystery Circle ignited, over thousands rockets simultaneously filled the sky. The screaming sound and brilliant colors of the rockets will be a experience the crowd will never forget.
Cai Guo-Qiang's Sky Ladder will run at MOCA from April 8th to July 30th. For more information, please visit http://lamoca.org. For more information about the artist, please visit http://www.caiguoqiang.com/.
Cai Guo-Qiang's Sky Ladder & Mystery Circle Highlights
---