Memorial Chief Richard Francesconi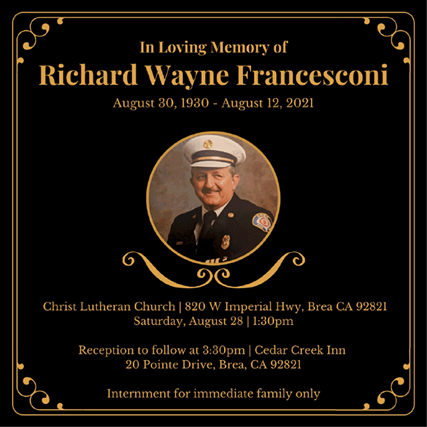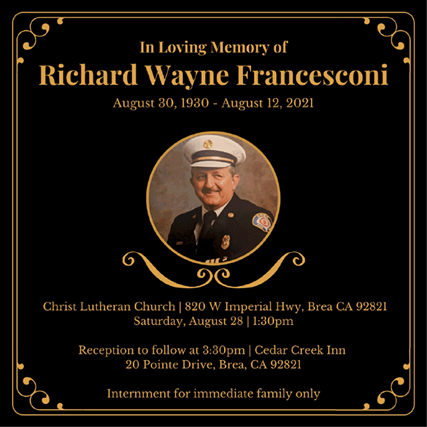 On August 12, 2021, Chief Richard Francesconi passed away in Brea, Ca, at the age of 90. Richard was a loving husband, father, grandfather, and friend who had a life full of love, adventures, and service.
In 1970, he earned his pyrotechnic license and started his 33-year career as a pyrotechnician and a friend with everyone at Pyro Spectaculars. Richard was involved in firework displays in Brea, as well as Las Vegas, Indianapolis, Hong Kong, and the opening and closing of the 1984 Summer Olympic games in Los Angeles. Richard also worked at Disneyland for 16 years where he lit the summer skies on "Fantasy in the Sky" and Fantasmic.
He was a passionate proponent of fire education, prevention and safety was his utmost concern. He teamed up with Bob Souza in 1976 and started the first ever Fire Service Training Program in Brea, CA. The class was attended by fire inspectors from over 17 cities and taught the Fireworks Laws and Regulations from Title 19, the knowledge of the types of fireworks and launching equipment as well as hands on manual firing of live products. The core curriculum of this program continues today throughout California.
Richard retired from Disney in 2003 and spent the remainder of his life assisting family members with their firework shows. He had friends from all walks of life as the word, "stranger," was not a part of his vocabulary.