Rose Bowl's AmericaFest Fireworks Show to Feature JPL Tribute, Motocross, Soul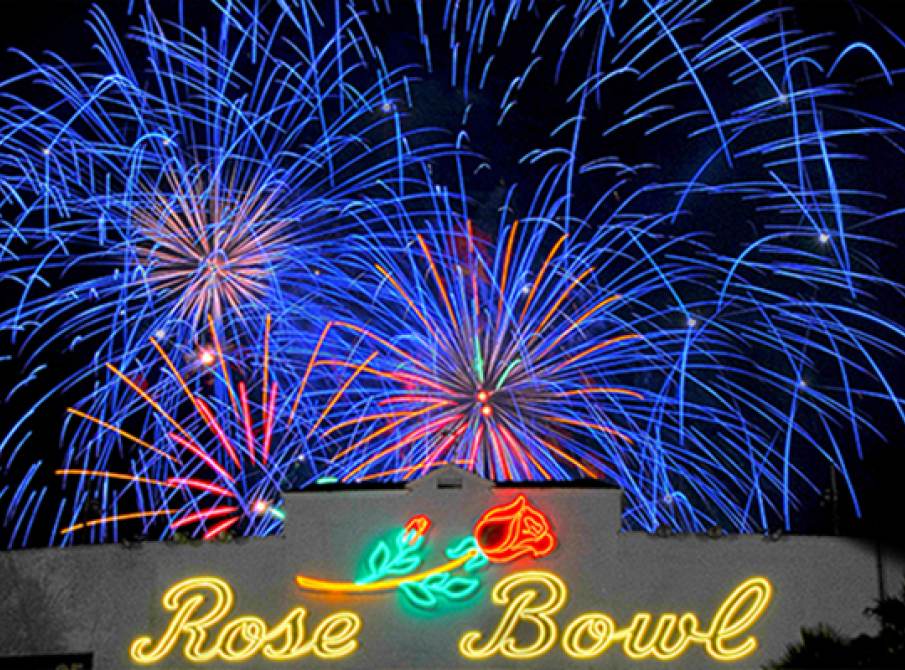 BY DAVID CROSS AND BRIAN DAY
Published on Tuesday, June 8, 2021 | 10:13 am
Tickets have gone on sale for the action-packed return of the popular AmericaFest celebration to the Rose Bowl as an in-person event this Independence Day.
The 95th incarnation of the show, which was transitioned into a virtual event last year due to the pandemic, has been themed "Celebrating America's Perseverance," according to a Rose Bowl statement. "This year's celebration will be a party to welcome all of Pasadena and beyond back to events at America's Stadium."
Rose Bowl Chief Revenue Officer Jens Weiden said the venue was "unbelievably excited" to be hosting its first large event since the onset of the COVID-19 pandemic.
"This will be the greatest welcome home party you've ever experienced, complete with the longest running fireworks display on the West Coast," he said. "You won't want to miss it."
Pasadena Mayor Victor Gordo said he was also glad to see the time-honored tradition return.
"The Rose Bowl Stadium is so iconic for many things, but the annual AmericaFest is an event that brings all of Pasadena and beyond together," he said. "Last year, due to the global pandemic, the Stadium pivoted the 94-year-old tradition to a virtual event format, but we are thrilled to once again welcome Pasadena back home to celebrate America, at America's Stadium."
In keeping with the theme, the show is to pay tribute to Jet Propulsion Laboratory and its Perseverance Mars Rover "to highlight their recent accomplishment in landing NASA's Perseverance rover on Mars, as well as their dedication to earth sciences and the future explorations of the world's solar systems to provide hope for the future discoveries in space," the statement said.
An hour-long performance by soul singer and contestant on NBC reality show "The Voice"  Mendeleyev, as well as a 30-minute "thrilling, high-flying" demonstration from TNT Freestyle Motocross, according to organizers.
For the main attraction, world-famous Pyro Spectaculars by Souza will return to the Rose Bowl to once again put on what the Rose Bowl touts as "the longest-running and largest fireworks display on the West Coast."
Show Producer Paul Souza, the sons of Pyro Spectaculars by Souza President and CEO James Souza, has been busily preparing to set Pasadena's sky on fire.
The pandemic took a heavy toll on the decades-old family businesses, he said.
"We're looking at survival really as our main goal, and it's going to take years to recover. I'm sure we're not the only industry sector or company in that domain," Souza said. "However, that's a lot better than the prospect we were looking at a few months ago, literally not looking like we were going to make it."
But once state officials announced plans to lift pandemic restrictions on June 15, Souza said his phone began "ringing off the hook."
"That's a good problem to have," he said. "I'm excited to celebrate our Independence Day again, and it looks like people are wanting to get back out and shoot this thing off with us."
The pyrotechnics will be accompanied by a score of music ranging from patriotic standards to modern pop hits, Souza said. "It's going to be a combination of honoring our frontline heroes as well as our military veterans."
As for the fireworks, Souza said he has a few new tricks up his sleeve for this year.
"There are new technologies, mainly the advent of computer firing is one of the biggest," he said. "Where we get most of the fireworks is in China, and they've adapted to some of the Western chemistry if you will, or some of the styling that's done in Europe to their production. And so there are different fireworks.
"And then I have a couple of special highlights that are some gifts that were given to us from Japan for the Olympics that didn't happen last year," Souza added. "So I have some special shells from Japan that I would like to feature in this year's show."
Ticket prices start at $25, organizers said. Masks will be required inside the stadium.
Parking lots will open at 5 p.m., with pre-purchased parking starting at $45, according to the Rose Bowl.
More information, including information on tickets and parking, is available on the Rose Bowl's website at rosebowlstadium.com.
Originally Posted:  https://www.pasadenanow.com/main/rose-bowls-americafest-fireworks-show-to-feature-jpl-tribute-motocross-soul/