Where to watch the Macy's July 4th fireworks for free in NYC
Published: June 29th, 2022
From: 6sqft
By: Devin Gannon
Nowhere is quite like New York, especially on the Fourth of July. Macy's signature fireworks show, the largest in the nation, will once again ring in Independence Day with more than 48,000 shells and effects from five barges floating in the East River. While there are many places around the city hosting fireworks watch parties, there are seven official public viewing locations along two miles that will offer the best (read: free) views of the Macy's Fourth of July show, including Midtown, Long Island City, Greenpoint, and Williamsburg.
"Macy's Fireworks will once again spark joy and captivate millions as together the nation joins in celebration," Will Coss, executive producer of Macy's 4th of July Fireworks, said. "Live from New York City, five barges positioned on the East River will launch a kaleidoscope of colors, shapes and sounds, celebrating America's diverse musical legacy, featuring a selection of genres that have inspired global culture."
The 46th annual event takes place on Monday, July 4 at roughly 9:25 p.m. and lasts 25 minutes. Conceived, designed, and produced by Macy's with Pyro Spectaculars by Souza, the show is synchronized to a musical score and features shells and effects in 30 colors and shapes and more than 1,900 shells and effects launched per minute. New shaped effects include a tall hat, a mushroom, little snake shells, as well as tricolor interlocking rings and blinking smiling faces.
A map released by Macy's marks seven NYPD-managed official spots to see the show, along with the spots that are ADA accessible.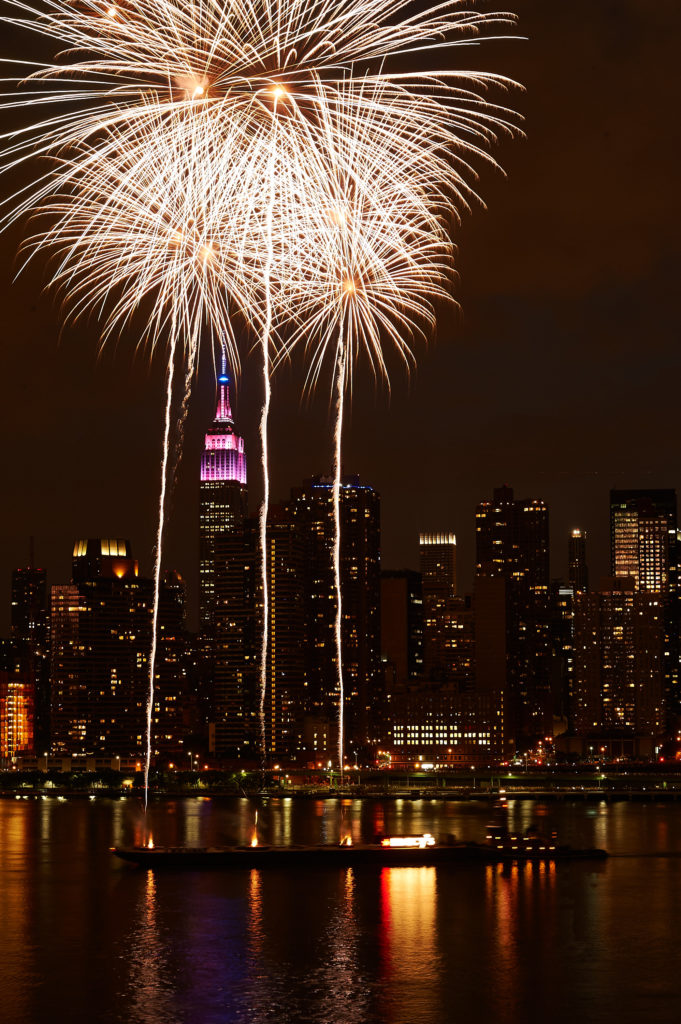 For prime pyrotechnic viewing on July 4, head to one of these spots, all of which are free and open to the public: 
East 42nd Street & FDR Drive (Entry at 1st Avenue and East 42nd Street)
East 34th Street & FDR Drive (Entry at 1st Avenue and East 34th Street)
East 23rd Street and FDR Drive (Entry at 1st Avenue and East 23rd Street)
Gantry Plaza State Park (Long Island City)
Transmitter Park (Greenpoint)
Bushwick Inlet Park (Williamsburg)
Marsha P. Johnson State Park (Williamsburg)
The patriotic spectacle will also be broadcast nationally on NBC from 8 p.m. to 10 p.m. on July 4 and streamed on Peacock. Learn more about the schedule of events here.
The musical score that will be synchronized with the fireworks display was curated by Ray Chew, the music director for Dancing with the Stars and the Macy's Thanksgiving Day Parade. There will be a mix of American music, from jazz and hip-hop to rock and country music, as well as patriotic songs like "The Star-Spangled Banner" and "Lift Every Voice and Sing."
For those on the west side of Manhattan or downtown, you'll be able to see Jersey City's impressive fireworks show over the Hudson River.
Originally Published: https://www.6sqft.com/where-to-watch-macys-4th-of-july-fireworks-2022/