Redlands 4th of July Celebration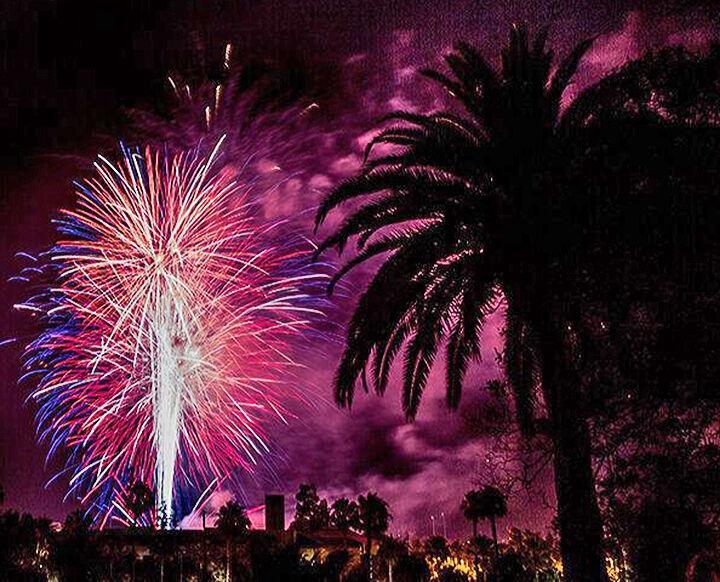 Published: June 30th, 2022
From: Redlands Community News
By: Madison Aument
The Redlands Fourth of July Committee will host in-person Fourth of July events for the first time since the onset of COVID-19. Last year, the fireworks show was moved to Moore Middle School, but did not have any in-person attendees due to COVID restrictions. This year will be the first time in the 55-year Redlands Fourth of July Committee history that the pyrotechnic show will be held at Moore Middle School with an audience on the field.
Despite the new setting, there will be some familiar elements, including a performance by the Redlands Fourth of July Band. There will also be a performance from tribute rock band Arena Red featuring Redlands' own Carl Baker. Attendees are allowed to bring picnics, but may not bring their own alcoholic beverages. There will be food and drink vendors at the fireworks show.
The festivities at Sylvan Park will be similar to past years. Boy Scouts will begin the festivities with a flag raising ceremony. There will be food vendors, non-profit organizations, bounce houses and a climbing wall and performances from the Fourth of July Band and Arena Red.
The traditional Fourth of July parade will assemble at Franklin Elementary School and will move east on Colton Street, right on Chapel Street and around Sylvan Park. All are welcome to join the parade. Registration for the parade is available at redlandsfourthofjuly.com.
Tickets for the fireworks show will be available at Sylvan Park on the Fourth. All of the labor, ticket and t-shirt sales, Sylvan Park activities, fireworks and the parade are made possible by donations from community members and business stakeholders which has saved tens of thousands of dollars in additional costs. The event is also made possible by major contributions from the city of Redlands and the San Manuel Band of Mission Indians.
The move to Moore
The move from the University of Redlands to Moore Middle School was a decision based on financial and logistical considerations, said show organizers. When Redlands first began holding the fireworks display at the University of Redlands, the show was held in the stadium. Due to stadium improvements, the show migrated from the stadium to the upper baseball field area. Since 2014, the cost of hosting the show at the stadium has increased from a few thousand dollars to over $29,000 for the 2019 show.
Tim Murone, head of the Redlands Fourth of July Committee, said, "We all need to recognize that the university has an obligation to the current and past stakeholders to protect their campus grounds. People gather around the different university campus grounds to watch the show for free, but the fireworks show is tasked with its protection and cleanup."
Pyro Spectaculars will be in charge of the fireworks display with Redlands native Jeff Martin at the helm. According to Murone, hosting the event at Moore will allow spectators on the field to view the shooting off of fireworks for the first time. Because of this, Martin is planning a more robust ground show than in years past.
Parking challenge
Parking has been a widely discussed issue since the announcement that the fireworks show would be moved to Moore Middle School. Moore is at 5th Avenue and Dearborn Street and is tucked away in a residential area.
According to Sgt. Jeremy Floyd from the Redlands Police Department, street parking will be available around Moore's campus.
There will be no-parking signs posted at Fifth Street between Marion Road and Dearborn Street.
Several roads around Moore will be closed at 4 p.m., but parking will be allowed if people arrive and park before 4 p.m.
Fireworks show at Moore
Gates open: 5:15 p.m. at Moore cul-de-sac at end of Redlands St., and at baseball field gate, 5th Ave. and Marion Rd.
Pre-show: 5:40 p.m.
Fourth of July Band: Conducted by Curtiss Allen Jr.
Food: Bring your own or visit Bites BBQ, Grizzly Grub tacos and burritos or Love to Snack with ice cream, chocolate-covered frozen bananas and cotton candy.
• Flag ceremony
• National anthem by Amy Allen Gano
• Airplane flyovers from 6:15 to 7:15 p.m.
• Skydivers at 7:20 p.m.
• Live Music by MLC at 8 p.m.
• Fireworks show presented by Pyro Spectaculars under direction of Jeff Martin at 9 p.m.
Originally Published: 
https://www.redlandscommunitynews.com/news/fourth-of-july-celebration-to-embrace-new-tradition-at-moore-middle-school/article_47a4bdec-f89b-11ec-a231-a337b15ebf41.html