New kind of fireworks show for Poinsettia Bowl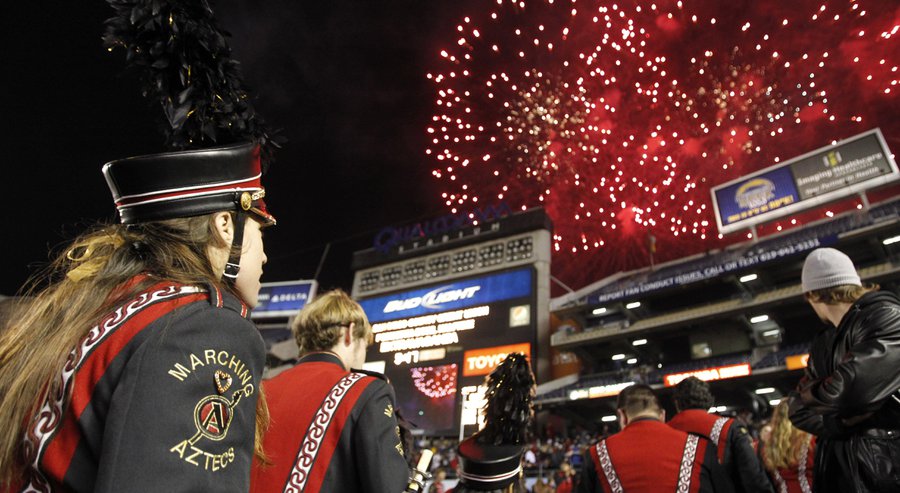 Original Article — http://goo.gl/sOcqVE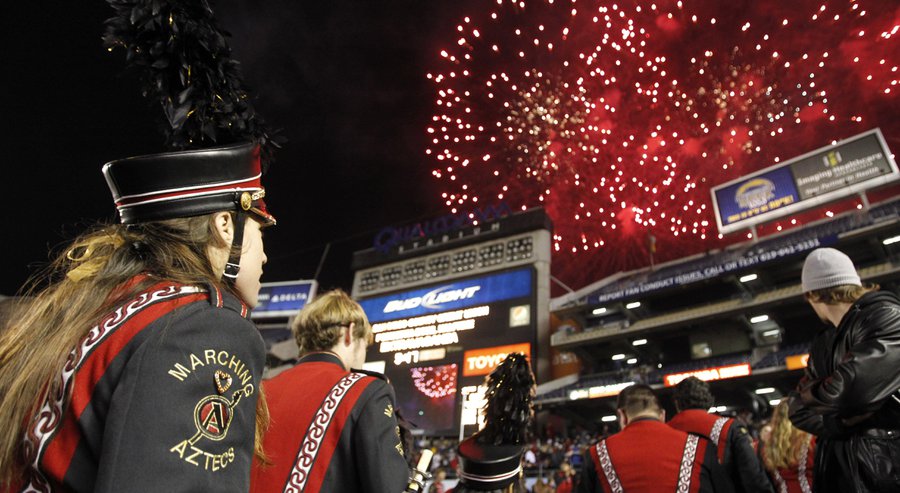 SAN DIEGO — James Souza, the man behind some of the nation's biggest fireworks displays, has only one way to describe the post-game show at Wednesday's annual San Diego County Credit Union Poinsettia Bowl at Qualcomm Stadium.
"It's the Sky Show on steroids," said Souza, referring to the decades-old KGB Sky Show.
That's a lofty description, and one that Souza, president and CEO of Rialto-based Pyro Spectaculars by Souza, vows to live up to.
"The Poinsettia Bowl is one we've done for many years," he said, "and they asked us to come up with something new, something different. We can always do something bigger, but how do you do something different? So we really had to be creative."
The results of the six-month-long effort will be unveiled after the game between the Boise State Broncos and the Northern Illinois Huskies (kickoff: 1:30 p.m.). San Diegan and Grammy-nominated singer Andra Day — who will sing the national anthem before the game — will perform her hit single "Rise Up" leading up to the fireworks show, dubbed Stadium Spectacular.
Pyro Spectaculars — which also produces displays for the Padres, Chargers, SeaWorld and the Big Bay Boom — is introducing LED animation that will be seen on the field while, above, a "holiday card" unfolds, featuring images in the sky.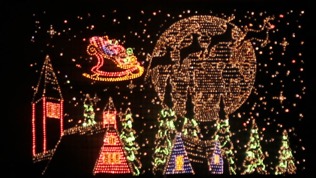 "This idea gave us the opportunity so showcase real fireworks art," Souza said, "using special colored flares to depict in great detail and pyrotechnic picture."
"There will be pyro everywhere — from the field, along the stadium rim and from the parking lot," said Sam Bruggema, the show's producer.
Souza's staff has been rehearsing for months at the Rialto High School football field to ensure a flawless setup that, Souza admitted, is "going to be a challenge, but we're up for it."
"We have 15 minutes to set it all up after the game," he said, adding that 24 people will quickly set up the field for what they've dubbed Pyrolectric Poinsettia.
"After that, we can all sit back and watch the show," he said. "I think everyone will find it very entertaining."
michael.rocha@sduniontribune.com