Gary Souza: The Explosive Career of a Fireworks Mastermind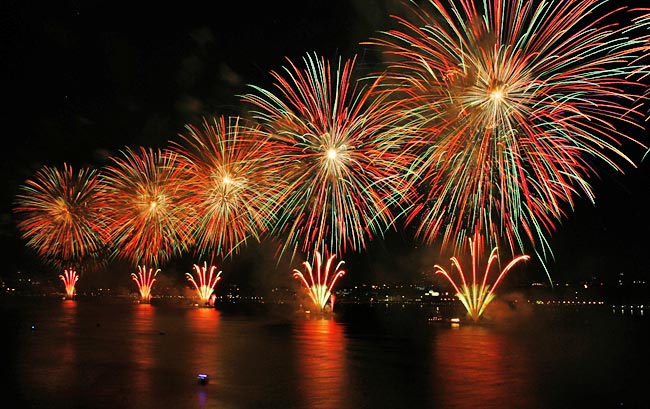 A pyrotechnics wiz takes us behind the scenes at the 38th Annual Macy's 4th of July Fireworks Show — for insight, history and some eye-popping facts
Macy's hugely popular 4th of July fireworks extravaganza in New York City is a sight to behold in person or on television. Spend some time with the man who makes the whole thing come together, however, and you'll really be blown away from the sheer enormity and complexity of it all.
A fourth generation rocket man, Gary Souza is the vice president of Pyro Spectaculars by Souza, the country's preeminent pyrotechnical company. (His older brother James is the president and CEO, and his sister Nancy and brother-in-law Ian help run the business too.) Theirs is an elite firm that has designed and implemented breathtaking light shows for the Olympics, various Super Bowls and numerous historic blowouts, including the 100th and 125th anniversaries of the Statue of Liberty.
While the company produces wildly colorful, state-of-the-art spectaculars around the world all year long, Gary Souza's biggest job is overseeing one of the outfit's premier events: the Macy's 4th of July Fireworks Show, which will return to the East River from the Hudson this summer for the first time since 2008.
We recently spoke with Souza to learn a bit more about snowball shells, glitter comets and zipping stars, and the man has got some pretty amazing tricks up his sleeve for the 2014 festivities.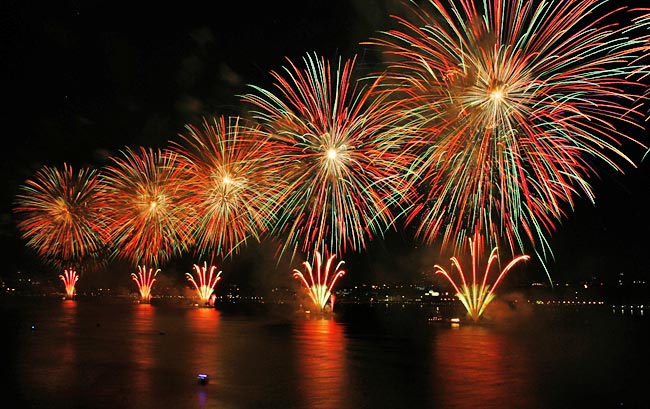 A Pyro Spectaculars by Souza fireworks (Photo: Courtesy of Gary Souza)
Your great-grandfather, Manuel de Souza, got this whole thing started, and now you're known as America's Fireworks Family. How did it all begin?
It really started for us back in the early 1900s as part of these small religious festivals and carnivals that Portuguese immigrants in the San Francisco area would throw, featuring native foods, music and entertainment. My great-grandfather was involved in the entertainment part of it. He wanted to make things more exciting for the people, so he started using fireworks. He'd mix them up on the stove in the kitchen while the family was cooking or eating meals or drinking wine. That's really how it all began. And then my grandfather, Alfred Souza, got into animation, mixing fireworks with animated features in the sky. There were these cool "set pieces" that told little stories, like a mama elephant bathing her baby with her trunk moving, while "spraying" water with lights. It's interesting, the visions they all had are very similar to what we're doing these days, only now we do it with more modern technology, and we're pushing the effects to make them more interesting for today's audiences.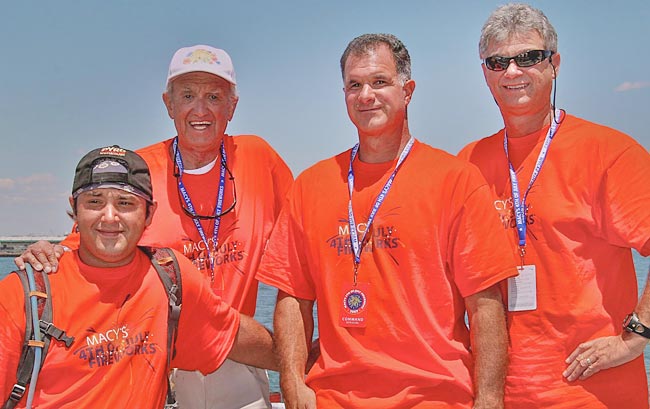 Fireworks family Christopher Souza, Bob Souza, Gary Souza, Jim Souza (Photo: Courtesy of Gary Souza)
When did the boom times begin, as it were?
My dad really started the modern business that grew into Pyro Spectaculars by Souza in the late 60s, and it became a full-time business for the family. There weren't any large-scale fireworks companies around at the time. We were the first. We did shows with Disneyland and Disney World and other theme parks and the Olympics. And soon, there was this need for higher-technology productions. And with Dad's insistence on safer productions [his great-grandfather lost an arm picking up a shell after a show, and his father was later injured too], we moved into electronic shows and eventually started using computers.
What was your first "cool job" in the family business?
My summertime as a kid was all about hanging out with my dad when he was working, ever since I was 8. That was my parents' version of babysitting. But my best cool job as a kid was to take scraps of unexploded fireworks at the end of the day and make my own little bomb, and then take it to the test area and set it off to see what I'd created. That was really fun.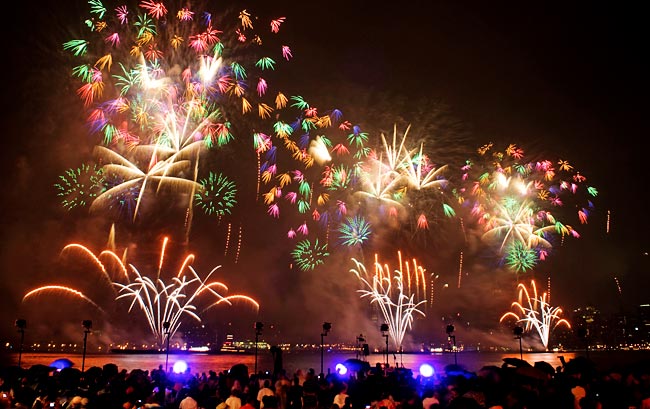 A Pyro Spectaculars by Souza fireworks (Photo: Courtesy of Gary Souza)
How long have you been involved in the Macy's 4th of July Fireworks Show?
I've been doing this show for more than 30 years. It's the biggest event I focus on during the year. We always try to do something bigger and better. That's the Macy's motto. And this year, the task was: bigger and better and more challenging than ever. So we've moved locales. We're going to be on the Lower East River, near the South Street Seaport. And we'll be using the Brooklyn Bridge as a major component in the show, not just as a backdrop. It's all really exciting. This show took well over a year to plan and design. Then it takes a lot of time to get approvals and work with the city for it all to come together.
How will the Brooklyn Bridge be involved?
We've always wanted to do fireworks off the bridge with the city's skyline in the background. I mean, the Brooklyn Bridge has so much character and charm and really says, "New York." So we're going to be shooting fireworks off the bridge in a multi-directional, high-definition, high-tech display. We like to describe it as a pyro-kinetic experience, with action and motion. The lights will run up and down the roadway, shoot out over the water, run up onto the towers, then go back onto the roads — all in a matter of seconds.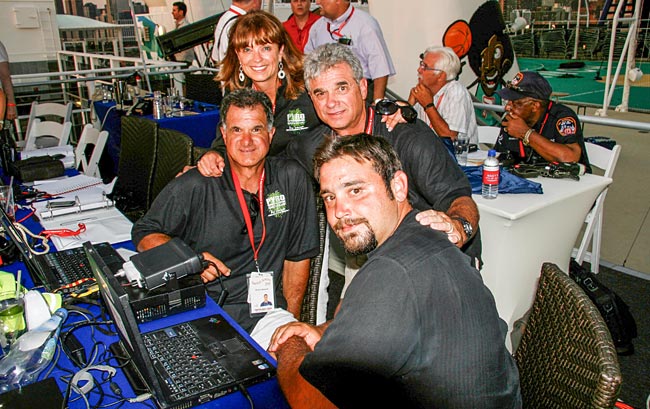 Fireworks team Gary Souza, Nancy Souza-Gilfillan, Jim Souza, Christopher Souza (Photo: Courtesy of Gary Souza)
Can you give us a little window into the technology involved?
There will be 50 different firing positions on the bridge alone, with hundreds and hundreds of electronic igniters at each position. It's all connected to five computer systems. Each firework item can ignite anywhere from a second to 1/400th of a second apart. And we're using self-consuming fireworks on the bridge, so they ignite and burn themselves out with little-to-no debris to protect and preserve the bridge and the surrounding area. And of course, it's all synchronized to music. This year that includes the Charlie Daniels Band with an original song and Idina Menzel singing "The Star Spangled Banner." This is actually the 200th anniversary of the national anthem, and we'll have a huge flag waving in lights on the bridge. In all, there will be 15,000 effects coming off the bridge and 30,000 aerial shells and effects on three barges in the river — in a 28-minute show.
How long does it take to set up all of that?
We've already started building the props, but we'll be on site 12 days before the spectacular. And a crew of 50 people will be there every day getting it all ready.
Do you ever worry that something will go awry during the show?
I always worry before and during a fireworks show. You work so hard trying to get it right. And you don't get a chance to practice or warm up like a musician or athlete. You get one chance. Plus, fireworks can be affected by temperature, moisture, weather and wind. So we take several extra steps to try and get it right, including traveling the world to design our fireworks, testing the product before delivery to our factory and re-testing for quality and consistency once the product arrives. When delivered to the show site, the electronic connections are tested several times. This is as close as you can get to removing man-made errors. But there are always the natural elements that can be catastrophic, so our pyrotechnicians must always keep that in the back of their minds and hope for the best but be prepared for the worst.
What advice would you give to someone who wants to get in on the act?
The best way is to talk with a company that's been around in the industry and to start to volunteer at a small or local show. There's so much to learn about handling and managing fireworks.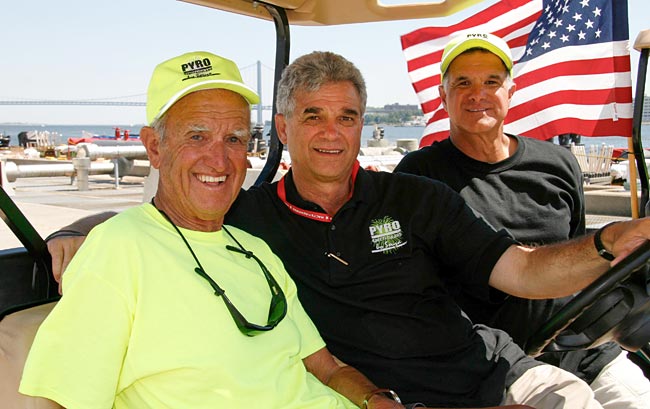 Fireworks family Bob Souza, Jim Souza, Gary Souza (Photo: Courtesy of Gary Souza)
Do you have any favorite effects?
I love the Macy's Golden Mile, which uses the Japanese-style Golden Kamuro shells that burst from 1,000 feet high and cascade down to the water's edge. They are slow, peaceful and elegant and fit well with a dramatic song. Each year, we try to make it a little longer or add a new color to the tips of the shell bursts.
How do you celebrate when the big show is done?
Fireworks are a passionate business. Some of the crewmembers have worked on the Macy's show for over 20 years. There's a bond between all the pyrotechnicians, so when we pull off a huge show, we're very elated. The first thing is, we check to make sure everyone's safe. Then we all tell the tales of what we saw while the show was firing: how loud it was or how crazy it felt when the finale went off. Then we all bid farewell until the next show — and for many it will be next year.
Original Article Location — http://www.newyork.com/articles/jobs/gary-souza-the-explosive-career-of-a-fireworks-mastermind-75598/