The KGB Sky Show™ in San Diego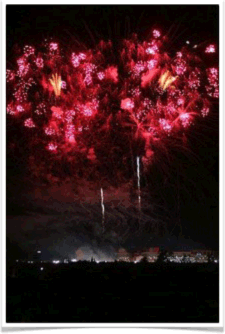 Another touchstone event for Pyro Spectaculars by Souza!
October 6, 2012 might just as well be the Fourth of July in San Diego this year! That's when KGB Radio (101.5 FM) will celebrate their 40th Anniversary with the 37th Annual KGB Sky Show.™ The multi-thousand aerial bursts will take to the skies with "the fireworks bar set even higher," according to Show Producer Ron Dixon. Dixon, who is recognized as "our fireworks guy" by most all of the major San Diego events and venues, has "KGB Sky Show™ in his blood," and is known in the world of pyrotechnics as a top designer, produce and truly master pyrotechnician.
History of The Show
Probably the most frequent question we're asked at Pyro Spectaculars is, "What do you do the rest of the year?" The answer, of course, is: we do about 50% of our annual shows. Though the (4th of July) Independence Day Celebrations take months of planning and preparation, our thousands of "non-seasonal" shows keep us busy indeed.
KGB Sky Show™ began in 1976 through the creativity of three individuals, Rick Leibert, Ron Jacobs and Jim Price as an experiment matching the ancient art of fireworks with Rock and Roll music.
Naturally, the biggest Fourth of July season ever was in 1976 when America celebrated the Bicentennial. And it was in that year that Rick Leibert, promotions director at KGB Radio (101.5 FM), and station executives Jim Price and Ron Jacobs, envisioned a new level of pyrotechnic pageantry. Liebert called his friend (now President and CEO of Pyro Spectaculars) Jim Souza, to see if what they had in mind was even possible. Broadcasting a music track to a massive audience as fireworks burst in precise synchronization from multiple geographic locations had never been done before. Sousa and Liebert crafted the first "Sky Show™," and history was made.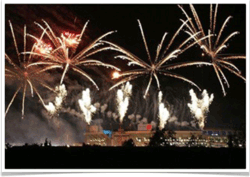 The show was fired from two locations in San Diego: Chollas Park and Fiesta Island, synchronized via an RF Transmitter and they set a new standard for large-scale fireworks productions.
Following Sky Show 1, the City of San Diego Police and Fire Departments called a meeting and told KGB that because of the massive traffic jams created by the event, any future events would need to be held at a location designed to handle incredibly large crowds such as San Diego Jack Murphy Stadium, now Qualcomm Stadium.
Through the years, many different elements have been 'experimented' with in Sky Shows including live talent, lasers, intelligent stage lighting, props, movie special effects, propane flame effects, famous sports celebrities, the Rocket Man, sky divers, marching bands etc. but the key elements that started the concept are still the key players, namely fireworks and rock and roll.
What began in San Diego, in the words of co-creator Rick Leibert as 'a continuing experiment of the matching of state-of-the-art fireworks with world class rock and roll', is now practiced world wide in such places as the Hong Kong Chinese New Year, the Australian Bicentenary, the Olympics, the world's major theme parks, baseball and football clubs, Las Vegas New Years, Korean Independence Day, Jerusalem 3,000 Anniversary, music tours and music videos, concerts, and thousands of other venues world wide where ever fireworks are synchronized and choreographed to live broadcast music.