Remembering Our Friend Jim Knezovich & Fire Service Seminars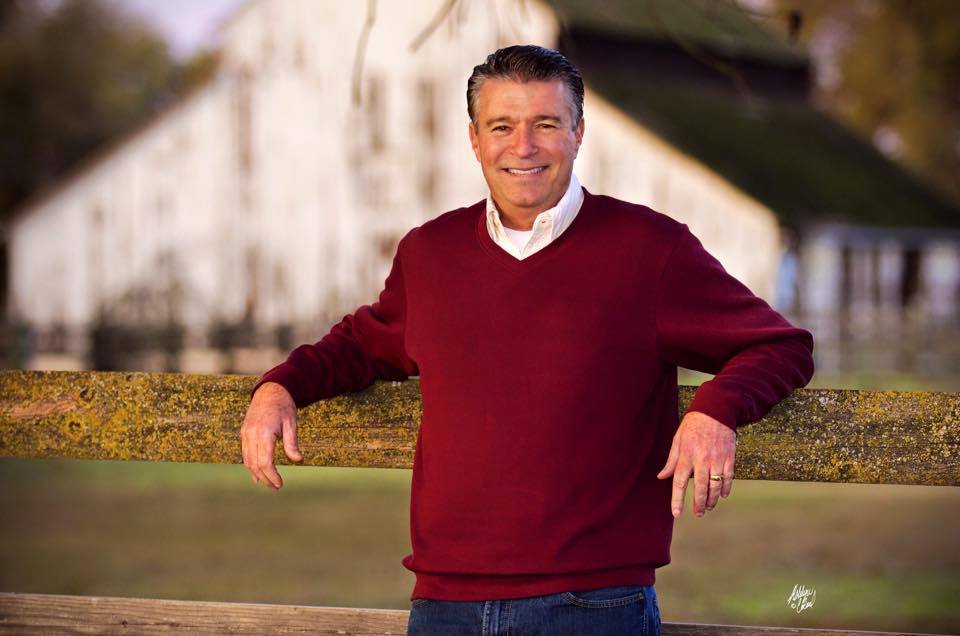 After recently being told that his Stage IV cancer had metastasized, Jim left this temporary home to be with Jesus on 5/27/2015. Jim was born on May 5, 1956 in Sacramento and lived the country lifestyle in Herald for the past 16 years. He leaves behind Ingrid, his lovely wife of 22 years, and his dear children, Stephanie Knezovich Warmerdam (Garrett), Rebecca (21), Matthew (19) and Julia (13) and his foster daughter, Holly Pierce. Jim will be missed by the best parents one could hope for, Al and Beverly Knezovich of Rocklin, and his brothers and best friends, Jeffrey (Erin) and Michael (Joan Krueger). He was predeceased by brothers Thomas and Dennis. Jim was brother-in-law to Robert Peterson, Christine Howeiler (Jon), and Jerri Lynn Peterson, son-in- law to Sharon Peterson, and uncle to Peter and Thomas Knezovich and Emma Howeiler. Jim was also grateful for his other best friend, Pastor Tim Stevenson.
Jim graduated from Christian Brothers HS and received his BS, cum laude, in Business Administration from CSU Sacramento. He was named "Outstanding Graduate" upon earning his law degree from Lincoln Law School and was awarded advanced Mediation Certification from McGeorge School of Law. A Partner at Laughlin, Falbo, Levy & Moresi, LLP, Jim was a respected civil litigator and with his expertise was considered by many as the premier CA attorney in his niche area of the law. One of his most valued accomplishments was being rated by his peers through Martindale-Hubbell as "A-V Preeminent" in civil litigation. Jim was proud to be associated with the many highly capable attorneys in his firm and had enormous respect for both their talent and particularly for the partners' caring and understanding about his health. In the early 1980's, Jim was a young Division Manager for Progressive Insurance. He was also an expert, licensed pyrotechnician, managing hundreds of fireworks displays and "sky concerts" (including years of California State Fair shows, a Super Bowl, Rivercats games and one of Ronald Regan's presidential campaign events) over the past 38 years.
Family was the most important aspect of Jim's life. He tirelessly and selflessly conducted his life for their benefit, and the kids' educational and career goals are of paramount importance to him and Ingrid. Jim's friends and colleagues encouraged the family to direct remembrances to the educational fund for his children at http://gfwd.at/1BakC99. Services to be held on June 4, 2015 at 1 pm at the Horizon Community Church, 446 Fairway Drive in Galt.
---
2015 Fire Service Fourth of July Seminar
---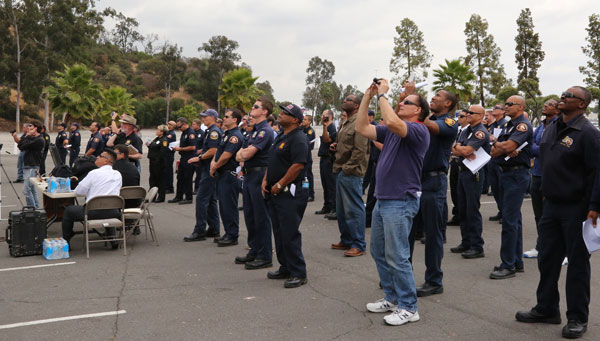 The fire service personnel watching demonstrations of various pyrotechnic effects.
The department patch of the Los Angeles City Fire Department.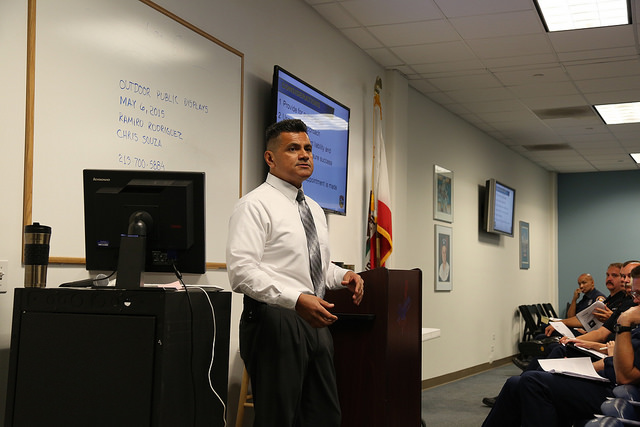 Ramiro Rodriquez of the Office of the State Fire Marshal discussing the particulars of Title 19.
The Fire Service Are Ready for Independence Day
On May 6th, Pyro Spectaculars by Souza, conducted its annual Fire Service Training Seminar at Dodger Stadium. The event was attended by over 80 inspectors from the City and County of Los Angeles and as far away as San Diego and Riverside Counties. This day served as a preparation for the upcoming 4th of July and covered the California State Laws and Regulations, Title 19 that was covered by Ramiro Rodriguez from the Office of the State Fire Marshal. Chris Souza provided the classroom presentation, "How to Planning and Stage a Safe and Spectacular Public Display," and the out door demonstration of products was once again handled by Eric Elias, the Show Designer and Master Pyrotechnican for the Hollywood Bowl.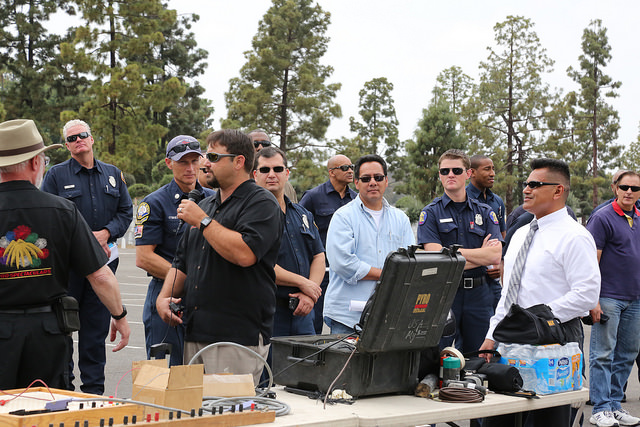 The outdoor portion of the day included a detailed overview of pyrotechnic equipment, firing systems, and tools of the trade. It concluded with a demonstration of various types of fireworks and the intended effects.
Fire officials from all parts of Southern California attended to learn about proper firework handling. They will be taking this knowledge back to their communities to ensure a safe, beautiful and spectacular holiday.