From: Newsweek
Published: June 25, 2019
By: Ewan Palmer
Macy's has announced details on what to expect for their 4th of July fireworks spectacular event, which this year will return to New York's Brooklyn Bridge.
Now in its 43rd year, the annual Independence Day celebration is set to be the biggest one yet, with the company promising more than 70,000 pyrotechnics to burn from the bridge and four barges stationed along the shores of Pier 17 at the Seaport District on the Lower East River.
This year, Macy's are telling people to keep an eye out for their showpiece firework displays: Wolf Whistle, Little Snakes, Hidden Happy Faces, Revolving Dragons and Multicolor Meteor Mines.
The show, which will start at 9:20 p.m. on Thursday July 4, will see millions of people line the streets of New York to watch the dazzling display. If you are in the city and want to catch the stunning spectacle, Macy's has suggested a series of vantage spots in the Lower Manhattan area where you will be sure to get the best views.
Official Viewing Locations:
Head to elevated portions of the FDR (North/South roadways) via these entry points in Lower Manhattan:
Broad Street and Water Broad
Pearl Street and Dover Street
Robert F. Wagner Sr Place and St James Place
Montgomery Street and Cherry Street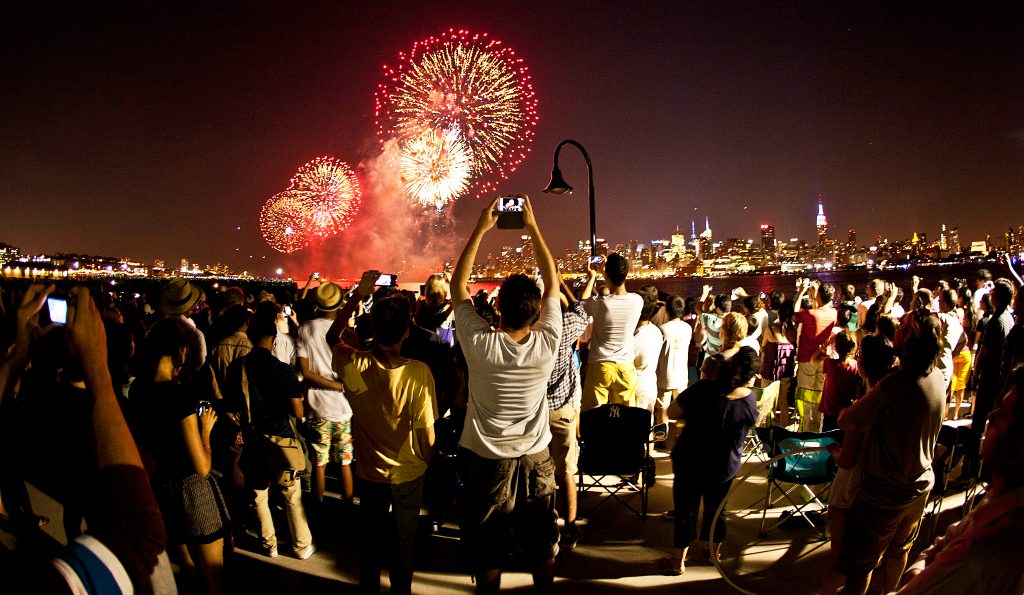 Access to the Lower Promenade via:
Pike Slip and Cherry Street
Market Street and Cherry Street.
All locations have a limited capacity, so make sure you arrive with plenty of time to avoid disappointment. Macy's advised that access and locations of the official viewing points are subject to change at the discretion of the NYPD.
Areas where it is not advised to watch the fireworks from are: Battery Park, Battery Park City, Brooklyn Bridge Park, Hunter's Point South Waterfront Park and Roosevelt Island.
For those hoping to watch the fireworks but avoid the crowds, NBC will be broadcasting the entire night, including performances from Marren Morris, Brad Paisley and Luke Bryan, between 8-10 p.m. on July 4. The show will be hosted by Dancing with the Stars' Derek Hough and singer Ciara.
"Macy's 4th of July Fireworks will light up the New York City skyline once again with the nation's best and largest Independence Day celebration," Susan Tercero, executive producer of Macy's 4th of July Fireworks, said in a statement.
"We are excited to once again work with our partners in the City of New York to make the iconic Brooklyn Bridge the star of our show. With a barrage of stunning shells and effects launching from its grand span and towers, along with tens of thousands more effects coloring the night from barges on the lower East River, this year's display promises to be a spectacle to remember."
Macy's last featured the Brooklyn Bridge for their fireworks show in 2014, when it was used as the launchpad for several key moments.
Originally Published: https://www.newsweek.com/macys-4th-july-fireworks-where-watch-1445789