Long Beach, CA

Passport to a New Year on the Queen Mary
Since pulling into Long Beach Harbor in 1967, the Queen Mary's travel days have been confined to history…until now. The eve of December 31st will relaunch the retired ocean-liner to her voyaging days with a one-night world cruise – The Ultimate New Year's Eve Voyage. "Passengers" will be transported to the vibrant streets of India, carnival nights in Brazil, the extravagant Moulin Rouge in France and Times Square in New York before returning to the ship's beginning, a village in Scotland. For those who've dreamed of celebrating the New Year abroad – now you can, without ever leaving Long Beach.
Fireworks Show at 12 AM (Midnight) PT.
Location: 1126 Queens Highway Long Beach, CA 90802
Information: (877) 342-0738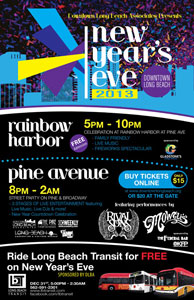 Hotel Reservations: (877) 342-0742
For More Information: http://goo.gl/RV1n0F
Downtown New Year's Eve
Downtown Long Beach will host a massive celebration this New Year's Eve with two incredible events beginning at 5 p.m. Just announced: live music at the Pine Avenue Celebration will feature Long Beach Rock'n'Roll Band Rival Sons, and eight piece Southern California band The Mowgli's. Produced and sponsored by the Downtown Long Beach Associates (DLBA), New Year's Eve in Downtown will begin with a family-friendly event in the Waterfront Amphitheater at Rainbow Harbor followed by a high-energy street party on Pine Avenue.
Firworks Show at 9PM PT.
Location: Pine Avenue, Long Beach
For More Information: http://www.downtownlongbeach.org/
Universal City (Hollywood), CA
Citywalk Rocks New Year's Eve

Fireworks Show at 12 AM (Midnight) PT.
Address:100 Universal City Plaza, Universal City, CA 91608.
For More Information: http://goo.gl/TpTbzZ
Sacramento, CA
New Year's Sky Spectacular
Sacramento's best New Year's Eve tradition lights up the skies above Old Sacramento with bright colors and flashes during the New Year's Eve Sky Spectacular. This free celebration is open to all residents and features activities for the whole family to enjoy. Including children's programming, live music, dinner specials, hot food and drink vendors and a variety of colorful street entertainment.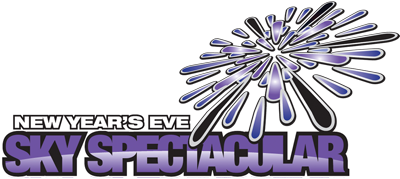 Firworks Show at 9PM and 12 AM (Midnight) PT.
Location: Waterfront Park, Sacramento, CA
For More Information: http://goo.gl/k7txSW
Seattle, WA
New Year's at the Needle

Join us in the festivities at Seattle Center or tune in to KING5-TV and KEXP 90.3 FM for the largest display of fireworks in the history of the show, set to an original music soundtrack from Seattle's own listener-supported radio station, KEXP. Live event coverage will be broadcast on KING5 from 11:35 pm to 12:30 am. KEXP will feature the music via their live broadcast from 11:59 pm to 12:08 am.
Fireworks at 12AM (Midnight) PT.
Location: 400 Broad Street Seattle, WA 98109
Phone: (206) 905-2100
For More Information: http://goo.gl/uNNCl6