Published: December 30, 2018
From: Geek Wire
Author: Kevin Losota
The roof of Seattle's Space Needle is crawling with workers installing fireworks this weekend and lighting for the T-Mobile New Year's at the Needle fireworks show on Monday.
New this year is a 30-minute musically-choreographed light show that will illuminate the Space Needle and send powerful beams of light into the Seattle night sky. "It's a combination of multi-colored LEDs and beams that will shoot thousands of feet into the air," said Rick Franke of Illuminate Production Services. "The Needle is going to have all types of color and texture."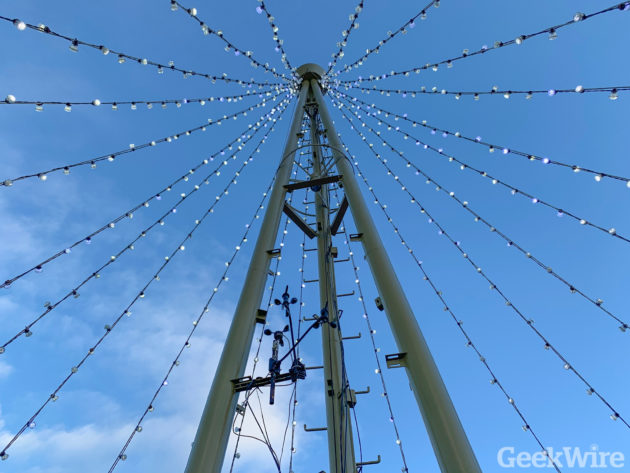 The light show will take place before the fireworks and will also be incorporated into the fireworks show at midnight. For the lucky folks with tickets to the sold-out New Year's party inside of the Space Needle, the new glass floor will be lit with special LED lights and will give a never-seen-before look inside of the fireworks show.
Ian Gilfillan of Pyro Spectaculars said this year's fireworks show is the biggest ever, with about 3,000 individual cues firing 1-to-100 items per cue.
If you are looking for a preview of the new light show at the Space Needle, check it out Sunday, Dec. 30 at 8 p.m. The light show will also take place at 10 p.m. on Dec. 31, prior to the fireworks. Tune your radio to KISS 106.1 FM during the light shows and the fireworks for the musical soundtrack.
Happy New Year, Seattle!
Originally Published: https://www.geekwire.com/2018/new-light-shows-highlight-new-years-fireworks-extravaganza-seattles-space-needle/