More than a Ton of Explosives - Largest Pyrotechnics Event Ever Held in the Southland
From: Pasadena Now
Published: Wednesday, June 19, 2019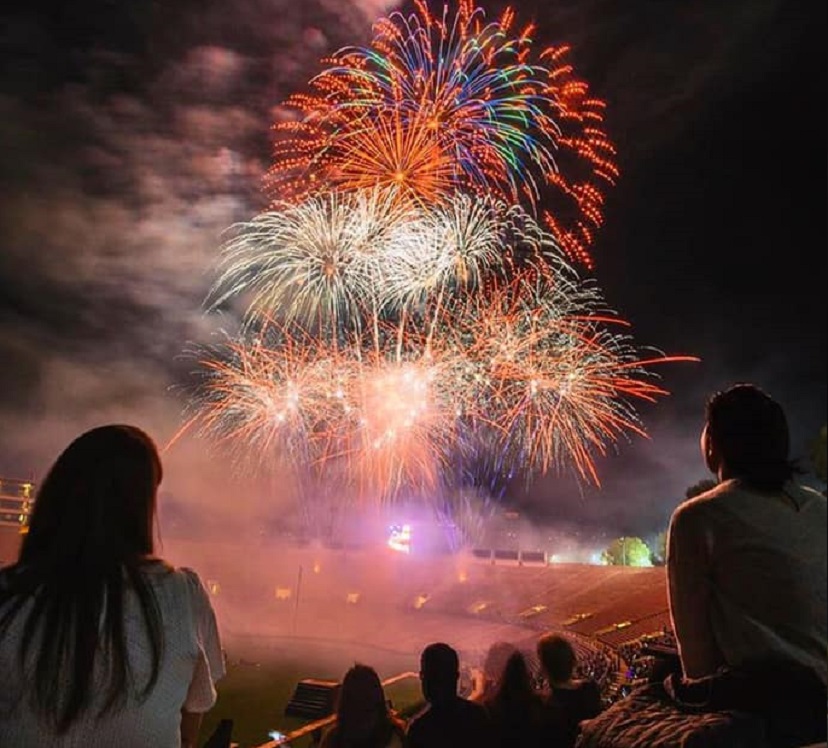 Recognized as one of the nation's largest and longest running 4th of July fireworks shows, the Rose Bowl will host its 93rd annual AmericaFest™ celebration on Thursday, July 4th with a spectacular nighttime display of more than a ton of fireworks. Thousands of special effects fireworks will be launched from the stadium as part of the Rose Bowl's daylong family-friendly entertainment extravaganza.
This year's audience will be treated to very special live performances by various Southland choirs to celebrate Disney's "The Lion King," in theaters July 19. Jon Favareau helms the new film, which blends live-action techniques, state-of-the-art virtual-reality tools and photoreal digital imagery to bring treasured characters to life in a whole new way. Walt Disney Records' highly acclaimed a cappella group, DCappella, joins the celebration, too, performing reimagined classics from the Disney songbook, including favorites from "The Lion King." The night of music continues with, University of Southern California's a capella group, SoCal VoCals, who have who 5 ICCA awards to date.
As part of the 50th anniversary of the lunar landing, guests will delight in witnessing an exciting preview from "Apollo 11: The Immersive Live Show." Finally, always a crowd thriller, TNT Freestyle Motocross returns to take to the air with thrilling motorcycle stunts.
AmericaFest™, presented by Honda, is a Rose Bowl Stadium tradition and is celebrating its 93rd year as the longest running 4th of July show in California. The Rialto-California based company Pyro Spectaculars by Souza will once again produce the Southland's largest fireworks show at the Rose Bowl.
Pyro Spectaculars by Souza has been family operated for five generations and has provided fireworks entertainment at the Rose Bowl Stadium for more than 35 years. Known worldwide for extraordinary firework displays, Pyro Spectaculars produces shows for NFL Super Bowls, the Olympic Games and major events throughout the world.
"It's exciting because this year's Rose Bowl AmericaFest™ celebration will feature the largest fireworks display in the western United States," said Darryl Dunn, Rose Bowl general manager. "This year will be the Southland's biggest and most exciting musical pyrotechnic show as we celebrate our nation's birthday."
A Family Fun Zone outside the stadium will open in the afternoon and will offer food, entertainment, crafts, exhibits and inflatable rides for children.
Tickets for AmericaFest™, presented by Honda, are on sale now at Ticketmaster (800) 745-3000 or at www.ticketmaster.comand are priced at $15 for general admission. Children 5 years and under are admitted free. And $35 for reserved. Children 2 years and under are admitted free. Event parking is $50 per vehicle and $60 for preferred parking. Members of the active military and three of their family members will also receive free admission by showing a current military identification at Rose Bowl Stadium Gate B on the day of the event at 3 p.m.
Reminder, the Rose Bowl Stadium is a clear bag venue. Please click here to learn more about our security policies.
For more information on AmericaFest™, presented by Honda, visit www.rosebowlamericafest.com.
Originally Published : http://www.pasadenanow.com/main/rose-bowl-stadium-93rd-annual-americafest-4th-of-july-spectacular-features-the-lion-king-music-tribute-apollo-11-preview-and-largest-fireworks-show-in-southern-california/#.XREf_dNKjOQ