Orginial Article — https://goo.gl/jWHHqr
Written By — Gordon Cox | Legit Editor
How do you celebrate a Founding Father? With fireworks, of course. And the producers of ultrahot Broadway musical "Hamilton" obliged, capping the show's opening night party Aug. 6 with a fireworks display over the Hudson River.
The mood was already pretty explosive at that point. The opening performance of the show — which has been an intelligentsia buzzmagnet since it bowed Off Broadway last spring, and has logged huge sales since it started performances on Broadway — attracted an enthusiastic, starry crowd that included everyone from Jake Gyllenhaal to Anna Wintour to Questlove. At the curtain call, the show's star and creator Lin-Manuel Miranda (pictured above) called everyone up onstage — not just the cast, but the designers and the crew and the band and all the other people who make the musical happen each night.
And even with rave reviews in the bag and a hefty advance in the bank, Miranda and his team have made it a point to thank the show's fans, too. The cast and creatives have regularly gone out onto the sidewalk to entertain the people that line up for the 20 super-cheap tickets that are handed out by lottery to each performance.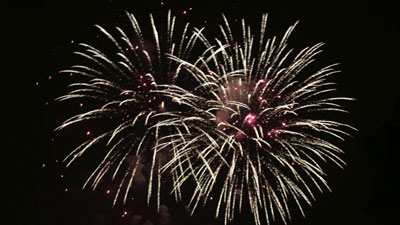 Miranda said the idea came to him and to his longtime collaborator, director Thomas Kail, at the same time. "It was like one of those scenes in 'The West Wing,' where one person goes, 'We should make college affordable,' and at the same time some else goes, 'We should make college affordable,'" Miranda said after the opening performance. "Seven hundred people showed up for 20 tickets to our first preview. I didn't want to send 680 losers out into the world. One, it's self-preservation. And two, now we can leave them with a story or an experience, at least. But you should have seen the look on my wife's face when I told her I have another show."
The cast, anyway, is having a blast hamming it up for the fans. "Going to the theater is like church, where you all come together for this one moment," said Christopher Jackson, who plays George Washington in the show. "Going out there is like Sunday School!"