BIG TURNOUT FOR HOLIDAY LIGHTING CEREMONY, PARADE, DESPITE RAIN
Published: November 24, 2018
From: The Coeur d'Alene Press
By: Devin Weeks
COEUR d'ALENE — The weather outside was frightful, but the fireworks of the 32nd annual Coeur d'Alene Resort Holiday Light Show were so delightful.
"It was beautiful. The fireworks display was beautiful. It gets better and better every year," said Josette Shults of Coeur d'Alene. "It's such a nice thing that the Hagadones do for the community, it really is."
Shults's son, Michael Standridge of Seattle, and his girlfriend, Danielle Petty, shared a romantic kiss as the final fireworks exploded overhead and the more than 1.5 million lights turned on to begin the 2018 holiday season in North Idaho. It was only his second time seeing the holiday show, and her first.
"It was wonderful," he said.
"That was a phenomenal show," she said with a big smile. "I loved the music that went along with it, too."
Shults gave a big shout-out to the high school bands for marching in the parade despite the cold rain. She and her husband, Dave, have been to many of the lighting ceremonies and were in agreement that this year really shined as a true hometown event.
"We got kind of burned out after that 'Good Morning America' stuff (in 2007), that was a little bit too much for our community in my mind, it took away the local flavor of it," Dave said. "It's really nice to get back down to a local show. The rain allowed it to be reasonably attended, the parade was wonderful, bigger and better than ever, lots of spirit."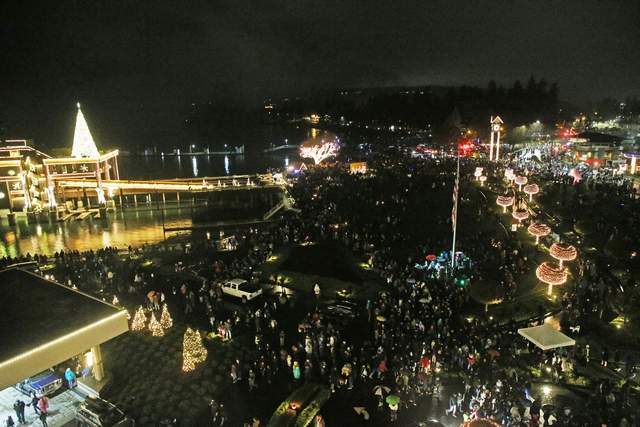 Christmas spirit sparkled all throughout the Coeur d'Alene Downtown Association's 27th annual Lighting Ceremony Parade, which consisted of a variety of 45 parade entries.
The Alta Dance Academy performers wore flashing green bows in their hair and skirts made of light-up hoops as they paraded with a Dr. Seuss "Welcome to Whoville" theme.
"It's really fun to be in the parade and dancing with all your friends by you," said Mackenzie Gallagher, 14, who was enjoying her second time in the holiday parade.
"This is my third year," said Alta dancer Cadence Doney, 13. "I like dancing with all my friends and being in the parade."
While many of the entries were lighthearted, a few were festive but also conveyed serious messages, including B.A.T.A.A. (Bikers Against Teen Addiction and Abuse), local law enforcement and the Leeder family reminding people not to drink and drive and more than a dozen canines and their human counterparts marching for Hank's Law.
"We want to get as much exposure as we can because we want people to know about us," said Jennifer Cook, president of Hank's Law, a nonprofit committed to increasing punishment for animal abusers in Idaho. "Idaho currently has some of the weakest animal protection laws and we want to change that. We want to protect our pets, protect our community, because anybody that will hurt an animal is more than likely willing to hurt a person."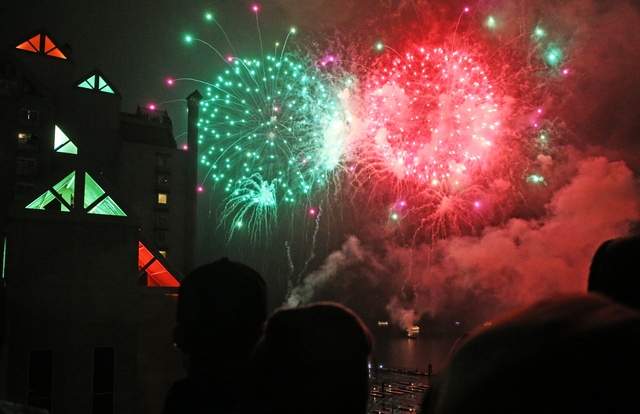 Wendy Leeder, mom of Jacob Leeder, the 16-year-old who was killed by a drunk driver last December, was with friends and loved ones in a float surrounded by police vehicles as they honored Jacob's memory and raised awareness about impaired driving.
"It's an epidemic problem in our country and you don't hear about it," Wendy said. "Jacob reached out to everyone in his life, and now he's still reaching out after he's gone. He would love that his family and friends came out here to honor him and he would be so happy it's raining because he would splash everyone in sight."
People ducked for cover in doorways and squished together under eaves to get out of the rain. Rick Villwock of Coeur d'Alene and his fiancée, Michelle Engelbrecht, didn't mind the weather as they enjoyed the holiday outing.
"I'm dressed for the event," said Villwock, who wore a Detroit Lions hat and coat. "You don't get much warmer than this sidelines jacket, plus a Lions shirt underneath."
Engelbrecht said they don't always make it to the lighting ceremony and holiday parade, but this year was special since her son and grandkids were visiting from out of town. They both really enjoyed the celebration.
"I like how the community gets involved," Engelbrecht said.
Originally Published: https://www.cdapress.com/local_news/20181124/big_turnout_for_holiday_lighting_ceremony_parade_despite_rain