From: The Friday Flyer BY DONNA RITCHIE 
Published 
The countdown to the 4th of July has begun. The 4th of July is the busiest holiday of the year in Canyon Lake. Population will soar by the thousands as weekenders and guests enter the gates to join Canyon Lake's biggest party of the year.
Backyard pool parties, boating and skiing, floating in the lake on a Lily Pad and family barbecues are just some of the ways Canyon Lakers will celebrate this day of independence and freedom. With freedom comes responsibility, so residents are asked to be aware of the guidelines provided by the POA regarding this busy weekend.
Past year's records show that more than 10,000 guest passes are issued over the July 4 holiday. The POA and City of Canyon Lake ask the public to cooperate with those in authority to help ensure a safe holiday. The personal safety and enjoyment of all residents and guests is their top priority, and strict enforcement of the law will be applied throughout the weekend.
Here are tips to help residents know what to expect o the busy holiday:
Calling in Guests
To avoid delays at the gates, residents are urged to remind their guests to have a valid driver's license ready and know the address they are going to.
Guests should be directed to use the main or east gates. There will be three lanes open at both gates. The RFID lanes will be open for vehicles with RFID transponders and vehicles with decals. Guests with pre-printed guest passes may use the middle lane. Additional staff will be on hand at all gates to assist guests with verifying passes and entering the community.
Fireworks Show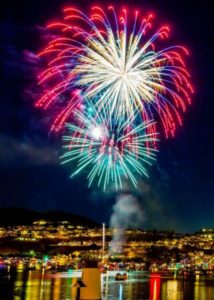 The fireworks will be launched from Skipper's Island (across from the campground) by Pyro Spectaculars at approximately 9 p.m. Due to road closures, spectators are urged to reach their viewing destination by 8:30 p.m. From the lodge patio area, Mike Shroyer of Good Time Entertainment will be playing music leading up to the show. Patriotic music will play in sync with the fireworks.
Causeways
Spectators may sit on the causeways to view the show, but not stop or park their cars and golf carts on the causeway.
Launching Boats
Marine Patrol will be verifying boats for current registration at all launch ramps. Unregistered boats are subject to a $500 citation. During the fireworks show, boats must maintain a safe distance from Skipper's Island – at least 350 feet back from the temporary red buoys. The show will not begin unless all boats are within a safe distance from the island.
Parks
Parks will open at 6 a.m. All picnic tables at Holiday Harbor have been reserved through a lottery system. Anyone using a picnic table not reserved for them can be fined. The remainder of the park is available on a first come basis. Portable tables, chairs and canopies are allowed at parks and beaches. Personal items left after park hours will be removed.
Pool Hours
The pool will be open from 6 a.m. to 8 p.m. Members must have a valid POA card and be in good standing to access the pool area. No one will be allowed on the pool deck area after 8 p.m., however, spectators are allowed to watch the fireworks show from the walkway around the pool.
Lighthouse Restaurant and Bar
The lodge will open its doors at 12 p.m. From 12 p.m. to 3 p.m., food will be available for purchase from the bar menu only. From 3 p.m. to 10 p.m., food will be available for purchase from a limited dinner menu along with taco specials. The downstairs Pool View Room will be open from 12 p.m. to 8 p.m. and will offer pizza by the slice and refreshments for purchase.
Country Club
The country club will be open from 6 a.m. to 4 p.m. The golf course will have normal business hours from 6 a.m. to 6 p.m.
Pre-fireworks Traffic Notices
Beginning at 2 p.m., Longhorn Dr. will be closed from Strawberry Ln. to the campground to all but emergency vehicles, residents of Longhorn and those staying at the campground. Guests should be prepared to show their guest passes with their host's address. Entry to the campground will not be permitted after 9 p.m.
At 8:30 p.m., Lighthouse Dr. at Vacation Dr., Canyon Club Dr. at Canyon Lake Dr., main causeway from Village Way Dr. to Blue Teal Dr. and Blue Teal Dr. will be closed to all traffic except emergency vehicles.
Post-fireworks Traffic Notices
For the first 30 minutes following the show, pedestrian traffic will be given priority along Canyon Club Dr. and the main causeway.
Vehicles leaving the lodge will be required to exit onto Lighthouse.
Vehicles exiting Village Way will only be able to turn right onto Canyon Lake Dr. South.
At the corner of Vacation Dr. and Canyon Lake Dr. North, vehicles will only be able to make a left turn onto Canyon Lake Dr. towards the east gate.
No Personal Fireworks
Riverside County and the City of Canyon Lake have deemed all unauthorized fireworks (including sparklers) illegal, enforcing a strict zero-tolerance policy on their use. Those caught in possession and/or using unauthorized fireworks will be subject to a $1,000 fine and up to one year of imprisonment. In addition, anyone who causes a fire by the use of fireworks will be financially responsible for all suppression costs.
Canyon Lake Rule GR.2.7 states that no person  shall sell, offer for sale, use, discharge, possess, store or transport any type of fireworks within the CLPOA community unless the person or organization has obtained a special permit from the General Manager. Violations subject the prime member to applicable fines.
Accountability
Residents are reminded the prime member is responsible for the actions of his or her family, guests, renters and lessees, as well as for any citations. The POA asks members to be respectful of those in authority who are trying to enforce those rules.
Other Reminders
There will be intermittent gas dock closures at Happy Camp at the direction of the Fire Marshal.
Curfew for those under the age of 18 is 10 p.m. to 6 a.m.
There will be zero tolerance for juveniles with alcohol as well as strict enforcement of boating and driving under the influence laws.
POA office will be closed on July 4. It will be open July 3 and July 5.
The Regular Session Board Meeting has been moved from Tuesday to Wednesday.
Water aerobics classes are cancelled July 1 through July 4.
There will be no Taco Tuesday on July 4.
Published from: https://fridayflyer.com/article/2017-06-30/count-down-to-independence-day/