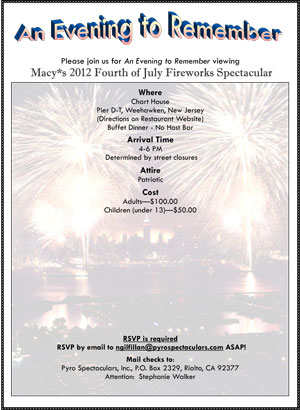 Hey Pyro Fans! Are you going to be in New York City for the Fourth of July??
Come watch the Macy's Fourth of July Fireworks Spectacular with the Pyro Spectaculars family! We are hosting an exclusive party at the Chart House. The location information is below.
Location:
Chart House
Pier D-T, Weehawken, New Jersey
Event Details:
Buffett Dinner, No Host Bar
Attire:
Patrotic
Cost:
Adults — $100
Childern (under 13) — $50
Click here to download the event flyer. Hurry! We only have 30 spots left!
More Info? Please Contact:
Nancy Gilfillan (ngilfillan[at]pyrospectaculars[dot]com)