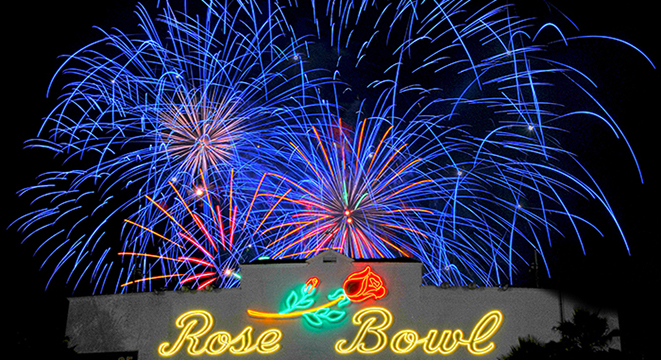 Original Article — http://goo.gl/cZsvSA
Rose Bowl Hosts Largest 4th of July Fireworks Show in Southern California
Recognized as one of the nation's largest and longest running 4th of July fireworks shows, the Rose Bowl presents its 89th annual AmericaFest™ celebration on Saturday, July 4th with a spectacular nighttime display of more than one ton of fireworks.
Thousands of special effects fireworks will be launched from the stadium as part of the Rose Bowl's daylong family-friendly entertainment extravaganza featuring live motorcycle stunts, a musical performance by the Grammy-nominated "Liverpool Legends," the ultimate Beatles experience that was hand-picked by Louise Harrison, sister of Beatle George Harrison. Also joining the musical entertainment will be Brandon Bennet as Elvis Presley. He stars as Elvis Presley in the Tony Award winning musical, "The Million Dollar Quartet."
To celebrate the golden anniversary of when The Beatles met Elvis, both Elvis tribute artist Brandon Bennet and Liverpool Legends as The Beatles will perform their biggest hits from the mid '60s to the early '70s including an epic grand finale which will showcase both Elvis and The Beatles performing together. Following the fireworks extravaganza, a screening of Despicable Me 2 presented by Universal Pictures will be shown.
AmericaFest™, presented by Honda, is a Rose Bowl tradition celebrating its 89th year as the longest running 4th of July show in California. The Rialto-California based company Pyro Spectaculars by Souza will once again produce the Southland's largest fireworks show at the Rose Bowl.
"AmericaFest™ has been a family-themed 4th of July tradition and celebration for southern Californians for nearly nine decades," said Darryl Dunn, general manager of the Rose Bowl. "Each year the Rose Bowl strives to provide families with the best fireworks show in the West, and this year we will surpass anything we've ever produced for our Independence Day celebration."
Pyro Spectaculars by Souza has been family operated for five generations and has provided fireworks entertainment at the Rose Bowl Stadium for more than 35 years. Known worldwide for extraordinary firework displays, Pyro Spectaculars produces shows for the NFL Super Bowls, the Olympic Games and major events throughout the world.
"You really get to be part of a larger-than-life show that transforms the evening sky into a shower of explosive lights and colors," said Paul Souza, Pyro Spectaculars' Rose Bowl show producer. "This year we have some surprises that will deliver many 'oohs and ahs'."
This year's celebration will take place on Saturday, July 4, with opening ceremonies, including the Presentation of Colors and the National Anthem, starting at 7 p.m. AmericaFest™ will feature live motorcycle stunts by TNT before the Liverpool Legends and Brandon Bennet as Elvis perform.
A Family Fun Zone outside the stadium will open at 2 p.m. and offers food vendors, entertainment, crafts, exhibits and inflatable rides for the kids.
Tickets for AmericaFest™, presented by Honda, are on sale now at Ticketmaster (800) 745-3000 or at www.ticketmaster.com and are priced at $13 for general admission and $25 for reserved. Children 5 years and under are admitted free. Event parking is $25 per car vehicle at all lots. Veterans who present a valid Military ID will gain free admittance; those tickets can be obtained from the ticket booth near Gate B beginning at 3:00pm on July 4th only.
For more information on AmericaFest™, presented by Honda, visit: www.rosebowlstadium.com.