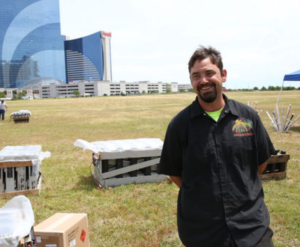 DONNA WEAVER, Staff Writer
ATLANTIC CITY — Thousands of fireworks will light up the skies over the resort tonight, rain or shine, during the Do AC Fourth of July fireworks show, organizers said.
Workers from Pyro Spectaculars by Souza were busy finishing preparations Sunday at the firing site at Borgata Hotel Casino & Spa.
"It's three or four days of preparations for about 20 minutes of fireworks, but when that grand finale happens, no one wants it to stop," said Bob Staples, a fireworks operator.
Staples and an 18-member crew worked on the final preparations for the show in the hot field of fireworks on MGM Boulevard in the city's Marina District.
Christopher Souza, of Pyro Spectaculars, said two people drove tractor-trailers across the country last week and made it to Atlantic City in three days with the fireworks. This is the third year Pyro Spectaculars has performed the show in Atlantic City, Souza said.
Souza said two years ago, the performance was delayed because of Hurricane Arthur, but fireworks can be shot in the rain.
"That year we had to call it off because we couldn't have anyone out on barges in the ocean with a hurricane," he said.
Tonight's fireworks will start at 9:30, last for 18 minutes and include 10,000 shells and effects. It is choreographed to patriotic songs along with celebratory pop music and Broadway showtunes.
The performance includes three firing locations — two along the Boardwalk, near Steel Pier and The Playground, and one in the Marina District. Souza said fireworks and crews are already set up on two barges in the ocean.
The performance ends with the grand finales and "Stars and Stripes Forever," the John Phillip Souza march. The soundtrack will air live on 95.1 WAYV and its sister stations, 99.3 The Buzz, 96.1 WTTH and 100.7 WZXL.
Pyro Spectaculars by Souza also presents the Macy's Fourth of July Spectacular in New York City. Souza said the company has 400 shows throughout the country tonight.
Visit doatlanticcity.com for more details as they are announced.
Contact: 609-513-6686
DWeaver@pressofac.com
Twitter @ACPressWeaver
Original Article — http://goo.gl/yOPJgD